Mortgage servicing is at a point of inflection, as this segment of the industry becomes more innovative and customer centric. The focus at this year's Mortgage Bankers Association National Mortgage Servicing Conference and Expo highlighted this element, hitting the present and 'the now'. The industry event in Orlando, Florida, appropriately themed "Servicing NOW!" explored the lessons of the past and the promise of tomorrow.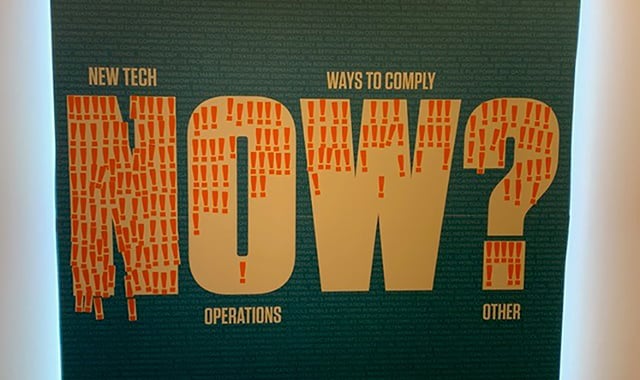 Clarifire was there, discussing all of the emerging issues and hot topics, continuing to help servicers be better now and improve operational visibility and controls for the present. In this industry, you can't afford to play catch up with the competition.
Now Is The Time
"With fewer compliance challenges emerging, this is an opportunity for servicers to be proactive. Find cost savings, operational efficiencies and structural improvements that you can bring back to run a tight ship," according to MBA in kicking off the annual gathering of servicing leaders, vendors, technology providers and other stakeholders. "Get ready to automate, innovate and operate for a promising tomorrow."
From keynote sessions to hallway discussions, it's clear servicers are abuzz about how to seize the moment of calm to invest in a more streamlined tomorrow. Topics on technology and innovation examined borrower retention, artificial intelligence and improving customer satisfaction and engagement. Now is the time to reimagine the customer experience as a mortgage servicer.
Disaster Relief
Disaster relief continues to be a headline grabber among servicers. Panel discussions delved into property preservation during disaster recovery, managing insurance and evolving risk frameworks. Navigating the complex waterfall of disparate agency disaster relief programs continues to overwhelm servicers.
As disasters continue to disrupt servicing operations with greater frequency, having a strong command of the multitude of disaster relief loss mitigation options can make a real difference. Prioritizing readiness and responsiveness will assist servicers in moving borrowers quickly and seamlessly into a sustainable relief plan.
Regulatory Environment
Although compliance and oversight have been relatively temperate over the past couple of years, it remains an important obligation. Industry stakeholders discussed how to best prepare for servicing exams in the current regulatory environment.
Representatives from the Federal Housing Finance Agency (FHFA), Department of Veterans Affairs (VA) and the United States Department of Agriculture (USDA) reviewed regulatory priorities for the coming year, as well as how servicers can adopt streamlined and cost-effective processes for servicing government-backed mortgages.
Customer Centric Operations
As a technology vendor, Clarifire prioritizes ease of use for servicers with a clear vision of the end user experience for the customer. Offering the ability to access information from a centralized and secure gateway, the CLARIFIRE COMMUNITY® feature provides bi-directional collaboration, delivering rapid automated responses to borrower needs by uploading images and inquiries. This kind of real-time customer-centric model is a vital to survive the increasingly competitive landscape.
The message from this year's conference was clear…. servicers have a real opportunity to ensure they're prepared for the future now. Despite relative market calm, many obstacles continue to disrupt operational progress and innovation.
Servicers need to be cognizant of challenges on the horizon and be prepared to think outside of the box by creating a customer-centric operation, by ensuring organizational readiness for new programs, from disaster recovery to loss mitigation to regulatory change, and last but not least, by automating internal processes to innovate latent systems.
Leverage Now with CLARIFIRE
Many servicers are on this path. It's important to not become sidetracked and to begin thinking progressively today. Achieving success is as simple as engaging with Clarifire, who has extensive industry expertise in providing automated workflow designed to help you deliver on all of these fronts.
The CLARIFIRE® application offers production ready features to leverage now. Whether managing customer service communications with your borrowers, modernizing processes to meet investor programs, or enhancing existing technology, Clarifire is experienced in providing robust automation of workflows that connect activities across systems. Minimize risk and prepare your servicing team for today, visit eClarifire.com today, or contact us directly at 866.222.3370.
If you liked this blog, read these next:

Jane has applied her vast experience (over 25 years) operating process-driven businesses to successfully redefine client-focused service. Jane has worked with expert programmers to apply cutting-edge web-based technology to automate complex processes in industries such as Financial Services, Healthcare and enterprise workflow. Her vision confirms Clarifire's trajectory as a successful, scaling, Software-as-a-Service (SaaS) provider. A University of South Florida graduate, Jane has received many awards related to her entrepreneurial skills.
Like this article? Feel free to share this with a friend or colleague!