Suppose you mash up the 300-foot drop in Millennium Force at Cedar Point with the 720-degree, triple, upside-down twist of Outlaw Run at Silver Dollar City and the 149 mph top speed of Formula Rossa in Abu Dhabi. This would give a glimpse into the roller coaster ride servicers experienced in 2020 due to the COVID-19 pandemic. The ride began on March 27, 2020, when The Coronavirus Aid, Relief, and Economic Security (CARES) Act was signed into law and ushered in forbearance relief for approximately 4.3 million homeowners. Despite migrating personnel to remote work, mortgage servicers rose to the challenge, and by May 10, 2020, the Mortgage Bankers Association estimated that 4.1 million homeowners had found relief.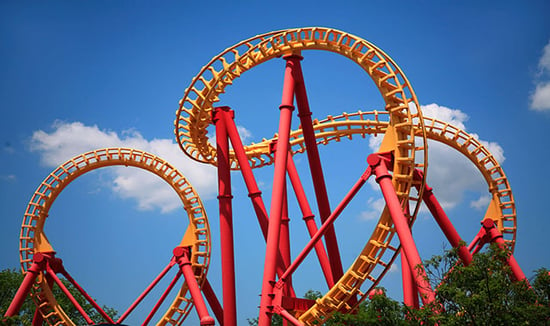 Not So Smooth a Ride
Regretfully this was not without consequence, as illustrated in the Consumer Financial Protection Bureau's (CFPB) recent Special Edition of their Supervisory Highlights on COVID-19 Prioritized Assessments. Just released in January and covering findings from Winter 2020, the report acknowledges that servicers, "entities", "needed to adapt to a number of operational challenges", mostly tied to state-stay-at-home orders and escalating unemployment. The CFPB also commented that they had offered servicers regulatory relief, including flexibility in their oversight and enforcement efforts. However, it's important to note that CFPB examiners were back to work by May of last year assessing consumer risk as a part of their prioritized assessment (PA), yielding this Special Edition report.
Twists and Turns Aplenty
The CFPB findings are not necessarily unexpected, but what is surprising is that these are familiar risk issues, and they could have been easily avoided. Breaking it down, the CFPB identified six areas that they felt represented potential harm to the consumer based on their PA responses:
Incomplete and Inaccurate Forbearance Information – Providing incomplete or inaccurate information to consumers about forbearance.


Some consumers were provided with inaccurate forbearance terms, breakdown of amounts due, and/or claims that a "lump sum" payment was expected at the end of forbearance,

In some instances, inquiring consumers were told that only delinquent borrowers were eligible for forbearance.

Written communications were provided with inaccurate or misleading information, including disclosing that a fee must be paid.

Written agreements asserted that a signature was required and/or claimed that a payment was due within a month, versus 90 to 180 days.




Default Communication and Fee Errors – Sending collections and default notices, assessing late fees, and initiating foreclosures for borrowers enrolled in forbearance.

Some servicers completed actions that were in error or inappropriate on CARES Act forbearances, potentially causing borrower confusion, to include issuing collection or default notices, charging late fees, or even initiating foreclosure.

EFT Cancellations – Cancelling or providing inaccurate information about borrowers' preauthorized electronic funds transfers.

In some instances, electronic funds transfers (EFTs) were canceled after only an inquiry about forbearance, or borrowers were not advised that they needed to cancel EFTs when entering into forbearance, and therefore payments were collected in error.




Unprocessed Forbearance Requests – Failing to timely process forbearance requests.

Some forbearance requests were not processed correctly, in a timely fashion or at all, yielding missed payments and credit blemishes.




Unauthorized Forbearance – Enrolling borrowers in automatic or unwanted forbearances.

Borrower forbearance inquiries were often processed in error as actual requests for forbearance.

Some inaccurate system codes led to placing an account in forbearance when a borrower did not request this arrangement.

Borrower acknowledgement or consent was not always obtained; multiple accounts were incorrectly placed in forbearance when only one was agreed to; and some loan modification requests were processed as forbearance requests.

Loans erroneously placed into forbearance without borrower consent were then reported to consumer reporting companies as being in forbearance.




Forbearance Application Process Deficiencies – Loss mitigation process deficiencies.

Borrowers with incomplete loss mitigation applications were placed in forbearance, then were not properly advised that other options were available to them.

Servicers lacking in suitable processes failed to evaluate complete loss mitigation applicants for CARES Act forbearances.



How to Streamline the Ride of Chaos
Enduring the COVID-19 pandemic has necessitated a significant level of servicing flexibility, expertise, innovation, and transparency to meet customer, agency, and investor expectations. This makes Clarifire the perfect vendor partner. A proven process automation partner providing vast capabilities for immediate operational and systems efficiencies when it comes to requirement and regulatory change, even if it's the result of an unforeseen pandemic. With CLARIFIRE®, new, updated, and even parallel processes, can be readily incorporated across your organization, helping to ensure all communications, processes, workout plans, and peripheral activities are properly completed. Think no touch. Think self-service. Think bulk straight through processing.
The CLARIFIRE® automated workflow application delivers proven workflow designed to support the default wreckage of the Great Recession, as well as the historic levels of natural disaster relief suffered over the past several years. This combined industry experience is presented in a SaaS environment with 24/7 self-serve access to data and decisioning, uniquely positioning CLARIFIRE to meet the scale and velocity of today's pandemic environment.
If the roller coaster ride of 2020 left you a little queasy, make the ride through chaos easier in 2021. Find out how an established industry vendor partner can streamline your servicing operation by contacting us directly at 866.222.3370 or visit us at eClarifire.com.
Let us show you how to future-proof your organization with CLARIFIRE®. Truly BRIGHTER AUTOMATION®.
Read these blogs and articles next

Jane has applied her vast experience (over 25 years) operating process-driven businesses to successfully redefine client-focused service. Jane has worked with expert programmers to apply cutting-edge web-based technology to automate complex processes in industries such as Financial Services, Healthcare and enterprise workflow. Her vision confirms Clarifire's trajectory as a successful, scaling, Software-as-a-Service (SaaS) provider. A University of South Florida graduate, Jane has received many awards related to her entrepreneurial skills.
Like this article? Feel free to share this with a friend or colleague!