Improving Patient Experience remains top of mind for most healthcare executives, but strategies and best practices are still being discovered and vary between organizations. Two evidence based strategies often used to increase low patient experience scores are Hourly Rounding and Bedside Shift Reports.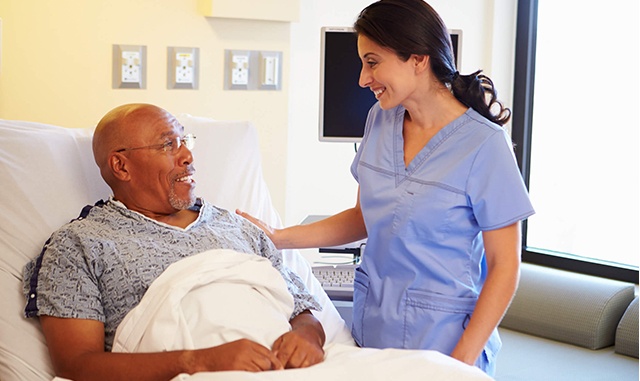 Hourly Rounding
Hourly Rounding, also known as proactive or comfort rounding, focuses on anticipating and addressing the patient's most common needs. They are categorized by the four P's: potty, positioning, pain, and periphery. In addition to making the patient comfortable, the nurse does an environmental scan for safety while in the room. By anticipating the patient's needs and performing safety checks, organizations see improvements in both the nurse responsiveness and safety domains. In some cases the result is a 40% increase in responsiveness and a 60% decrease in fall rates1.
Bedside Shift Reports
According to a Johns Hopkins study in 2106, medical errors attribute to more than 250,000 deaths in the US per year. Figures like this make medical errors the third leading cause of death.2 The Joint Commission has estimated in hospitals across the nation, 80% of serious medical errors involve miscommunication between caregivers during the transfer of patients.3
Bedside Shift Reports are often viewed as an important opportunity to reduce medical errors and ensure communication between caregivers with mutual patients. As an added bonus, research has shown that the implementation of bedside report has increased patient safety and patient and nurse satisfaction.4 The best models of bedside shift reports incorporate the patient as part of the handoff (changing of shifts) and have been shown to increase patient engagement and enhance caregiver support and education.5
View our On-Demand Patient Experience Webinar!
The Winning Combination
Combining the bedside shift report and hourly rounding to your daily processes is a one-two punch for improving quality, safety and the patient experience. Here are a few suggestions on how to put it into practice within your hospital.
Develop a standardized process.
Consistency is a fundamental piece to making a positive impact on scores using hourly rounding and bedside shift reports. Standardizing processes guarantees that there is consistent and repetitive execution by all team members. Patients know what to expect and it's easier to measure who is doing what and what works and what doesn't.
Make the patient part of the process.
Patients are a central part of the process, which makes it vital that they are part of your process. From day one, they need to know what to expect from their caregivers. For hourly rounding, let them know you will check on them every hour during the daytime and scale it back a bit at night so that they can get their rest. For the bedside shift report, explain what it is and how they can be part of the process.
Implement technology that supports your efforts.
A mobile rounding tool is a great resource for standardizing your hourly rounding and bedside shift report processes. The use of a workflow technology will confirm that the critical components of both are consistently executed and all communications are tracked in one central location.
Measure, improve, and measure again.
Once you have your processes and technology in place, you need to measure your success and identify areas for improvement. Continuous improvement is crucial to improve patient experience scores. Measuring your process will validate the benefits of hourly rounding and the bedside shift report.
Don't Look Too Far
The good news is you don't have to look too far to find a technology that fulfills can help you implement your winning combination for top box success. CLARIFIRE HEALTH® offers an easy-to-use mobile application that is as simple as Tap, Swipe, and Go. Intuitive usability combined with a robust workflow engine capture metrics, preferences, and trends in real time. Paper processes are eliminated, issue escalation is automated, and solid reporting is available with just a few quick clicks.
If you liked this blog, read these next!