Healthcare professionals understand how important it is that their patients have a good experience and are treated well during their stay, on top of the expectation of quality clinical care. Now more than ever, emphasis on the experience is critical as HCAHPS scores are directly linked to reimbursement initiatives through the Center of Medicaid and Medicare Services.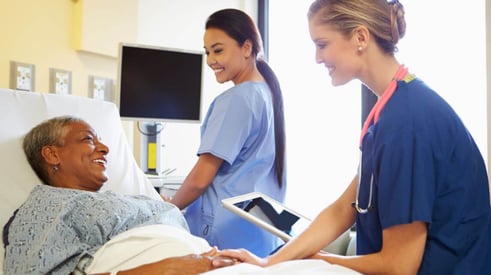 It's important to have rounding technology that may improve the patient perception of care. This could lead to a positive correlation on a hospitals' overall ratings.
Outside Influences
Sometimes there are factors beyond your control that will impact your ability to meet patient preferences. For example, the size of the hospital. A smaller hospital is usually less noisy and doesn't have as many patients. This means the nurses may be under less strain and their response times are reduced.
Certain factors measuring patient satisfaction are easy to fix and improve upon, while others are not. According to Deloitte Center for Health Solutions, there could be several reasons why the patient experience could have no impact on the clinical outcomes. Readmission rates or hospital acquired infections may be higher despite a positive patient experience due to factors outside of the provider's control, like the lack of caregivers in the home.
Similarly, hospitals located in high-traffic areas may not be able to control their noise levels and space limitations. Or perhaps the hospital cannot afford to increase staffing that would improve the patient response times.
Hospitals that are able to provide private rooms and healthy foods may have higher patient satisfaction scores. While these are important, there are other aspects of poor performance and pitfalls that may be easier to fix—such as making sure the patient has a clear understanding of care after release from the hospital.

Let's face it—no one gets excited when they have to be admitted to the hospital. If the experience is met with anticipation and anxiety, there are ways to offset those feelings by using smart technology. Mobile devices can display personalized data to the critical care givers in real-time in spite of outside influences.
The Power of Patient Preferences
When nurse leaders are armed with important information about the patient, it becomes simple to engage in conversations with them about their families, pets or favorite flavors of ice cream. It's also beneficial for things like remembering to keep the lights on for the patient with PTSD or knowing if their mom is having surgery on the third floor that day. These small nuances make big differences.
Conversations that are kind, caring and informative make for an overall better patient experience with someone who spends 30 seconds in the room using smart technology than 30 seconds with no personal interaction. Remembering their preferences shows them you're paying attention and makes the visit more meaningful.
The Solution
Utilizing rounding technology can drastically improve the overall experience for the patients. It should be non-intrusive and have the ability to automatically send requests from a mobile device.
Mobile technology that displays patient preferences, like nicknames, and launches escalations and requests digitally eliminates the need to share information outside of the patients' door and is a silent alternative to typing on a keyboard. This creates harmony within the organization.
Personalized data can make all the difference when it comes to the patient experience. A mobile strategy that works in real-time to integrate different departments means less chance for error and more time spent handling what matters most.
Hospitals and families must work together to continuously improve the patient experience. If your grandfather was sent home from the hospital after hip surgery with only two visits per day from a home health agency, would that be sufficient? What if his wife was in Hospice and unable to care for him during his recovery? Knowing this information from the beginning allows for a seamless transition from the hospital to the home or rehab center.
Investing in smarter technology provides incredible benefits across the entire organization. Find out how.

Lauren Walling
Lauren Walling is a graduate of Emory University with a degree in Industrial Psychology, as well as an MBA from the John Sykes School of Business from The University of Tampa. She currently sits on the Board of Fellows at the University of Tampa, and is a member of the Healthcare Business Women's Association, National Association of Professional Women, and the Morton Plant Skip Cline Society. Lauren works with large Healthcare Systems implementing Patient Experience Solutions that streamline processes, increase patient experience and improve quality and safety.