It's no secret that structured rounding improves patient communications and case management outcomes. But, according to a study conducted by Stanford Health Care, purposeful rounding has also increased patient satisfaction by an average of 12% in some hospitals.
Purposeful rounding is a proactive, systematic, typically nurse-driven, repeatable process that assists providers in anticipating and addressing patient needs. It has also shown to decrease morbidity that can result from patient falls.1 A common model is to provide rounding on patients by nurses or nurse assistants every hour, and is, therefore, sometimes referred to as hourly nurse rounding.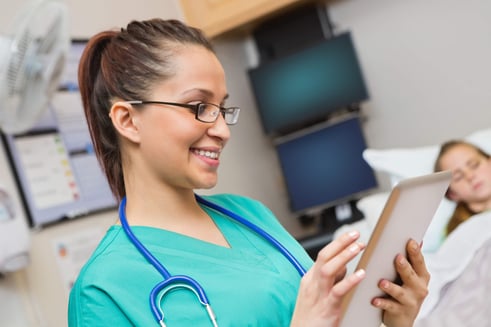 Unfortunately, it's not always easy to implement an hourly nurse rounding program. For many nurses and other medical practitioners, it often feels like one more "to-do" on a never-ending list of responsibilities.
However, by combining mobile technology such as a tablet, or other mobile device with purposeful rounding, a healthcare facility can easily transition to more advanced rounding protocols while avoiding many of the daunting tasks associated with large-scale change.
Here are four key benefits of combining rounding with a purpose and mobile technology to engage patients and improve their overall recovery and satisfaction ratings.
1. Ensure High-Quality Rounds with Standardized Digital Processes
Anytime you can standardize data collection, add personalization of preferences and share information with a patient, communication will be drastically improved. When implementing a purposeful rounding program, standards are established for how each healthcare provider is expected to perform their rounds.
Related: Smarter Technology Helps Hospitals Target What Patients Care About Most
When combined with the use of a mobile device providing standardized prompts, the result is improved efficiencies, quality and accountability. The patient experience is improved because the patient knows what to expect from each of their providers, which contributes to consistent care.
2. Save Time and Money with Improved Provider Efficiency
Research shows the purposeful rounding approach decreases patient requests via call lights and reduces the number of times a healthcare provider has to walk during his or her shift.2 These benefits alone will save your healthcare organization time and money, however, combined with mobile technology, the savings are exponential.
With quick access to patient information on their mobile device, doctors and nurses don't have to return to a particular location on a patient floor. They can immediately access and add information on their hand-held device reducing the amount of time spent manually entering patient information after rounds or at the end of a shift.
3. Improve Patient Outcomes with Consistently Collected, Real-Time Information
When practicing hourly nurse rounding, the provider and patient spend more time together which establishes trust. Patients who trust their healthcare providers are more likely to share important health information that can lead to making better-informed decisions about their treatment.
Through the use of mobile devices, data is collected in real time using tap, swipe, and gesturing. This interaction with the mobile device makes it easy to keep eye contact with the patient at all times fostering comfort.
4. Increase Patient Satisfaction through Improved Communication
Putting information in the hands of the providers who are implementing hourly nurse rounding allows for a more natural interaction between the patient and provider. When real-time information is available during a patient consultation, communication is easy and fluid.
The practitioner's ability to answer questions and discuss any patient concerns are addressed in an efficient and confident manner making the patient feel respected and letting them know that their healthcare provider cares about their well-being.
In addition, the next person that interacts with the patient can easily read the notes and keep up to date with all of the prior interactions, without verbal sharing of information that interferes with the harmony that has now been created.
Through the implementation of a mobile strategy coupled with workflow, rounding with a purpose becomes meaningful and produces powerful results.



By integrating mobile technology into the processes of purposeful rounding, a provider can introduce significant cost and time savings throughout the patient care continuum. Many healthcare organizations also report an increase in patient satisfaction scores by integrating these practices and technology.
As with any medical protocol, the proper mix of people, process, and technology must be employed to improve the experience for both the patient and provider.
___________________________
1 https://stanfordhealthcare.org/health-care-professionals/nursing/quality-safety/purposeful-rounding.html
2 https://www.ncbnlm.nih.gov/pmc/articles/PMC3841346/
Lauren Walling
Lauren Walling is a graduate of Emory University with a degree in Industrial Psychology, as well as an MBA from the John Sykes School of Business from The University of Tampa. She currently sits on the Board of Fellows at the University of Tampa, and is a member of the Healthcare Business Women's Association, National Association of Professional Women, and the Morton Plant Skip Cline Society. Lauren works with large Healthcare Systems implementing Patient Experience Solutions that streamline processes, increase patient experience and improve quality and safety.