Parents want what's best for their children. They often use reviews and evaluations as a way to determine the value of a product or service. This information is useful to understand and make decisions on what is best for their child. We look at safety ratings to determine the highly rated car seat to keep our babies safe as they travel in our cars. We review school ratings to determine the best place for them to get an education.
"Each year, there are roughly six million hospital stays for children in the United States, representing nearly one out of every six discharges from U.S. hospitals."1 As a parent, wouldn't I want the same type of information to determine the best hospital to take my child if they were one of those six million children hospitalized? You bet I would.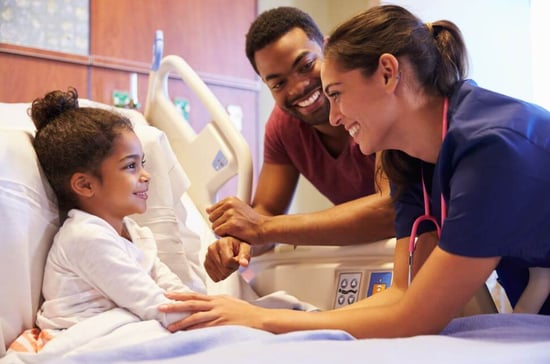 The Need for Transparency
In 2014, the Child HCAHPS survey was released as a way to address "the need to assess and improve the experiences of pediatric inpatients and their parents."2 Surveying these patients and their parents while they are in the hospital, versus after discharge, is invaluable to hospitals. It allows them to quickly see what they are doing well and address any issues in real time.
Collecting and analyzing data over time helps hospitals establish patterns of repetitive issues and identify key areas of improvement. Making this information available to the public provides parents with the valuable data to make informed decisions about their child's healthcare.
How to be Transparent
Rounding solutions coupled with workflow make it effortless for hospitals to collect and report patient experience information. Advancements in mobile technology make it easy to round on patients with simple tapping and swiping versus clicking and typing—all while engaging the patient and their parent.
Patient preference tracking features and historical views enable healthcare providers to provide a personalized experience that improves as the data is collected.
Transparency is Optional
Today, the collection and reporting of patient experience data remains voluntary for hospitals. Organizations, like The Leapfrog Group, are taking steps to change that. Their focus is to provide transparency to "consumers and purchasers about the quality and safety of hospitals in their community so they can choose the best hospital for their care"3
In this day and age, information is readily available for consumers. What's stopping you from providing it to them? By starting now, your organization will gain critical insights into areas of deficiencies, while demonstrating to potential patients and their families that you are committed to quality and safety in the care you provide.
Related Articles
Case Study: Regional Hospital Network Sustains Increased HCAHPS Top Box Scores with Innovative Technology
4 Ways Merging Purposeful Rounding and Mobile Technology Can Increase Patient Experience Scores
Smarter Technology Helps Hospitals Target What Patients Care About Most
Sources:
1http://www.leapfroggroup.org/ratings-reports/pediatric-care-0
2https://www.ahrq.gov/cahps/surveys-guidance/hospital/about/child_hp_survey.html
3http://www.leapfroggroup.org/ratings-reports/how-our-ratings-are-used

Lauren Walling
Lauren Walling is a graduate of Emory University with a degree in Industrial Psychology, as well as an MBA from the John Sykes School of Business from The University of Tampa. She currently sits on the Board of Fellows at the University of Tampa, and is a member of the Healthcare Business Women's Association, National Association of Professional Women, and the Morton Plant Skip Cline Society. Lauren works with large Healthcare Systems implementing Patient Experience Solutions that streamline processes, increase patient experience and improve quality and safety.