As we all sit on the edge of our seats, wondering if our new normal is here or if a new variant will send us into another winter of hibernation, there is good news for mortgage servicers, as well as opportunity. This year's J.D. Power U.S. Primary Mortgage Servicer Satisfaction Study shows that overall customer service satisfaction has actually improved under COVID-19. Do not be perplexed by this seemingly upside-down compliment. Servicers have remained solidly on the frontline, assisting borrowers as they have sought forbearance and other loss mitigation options to ward off pandemic delinquency or foreclosure.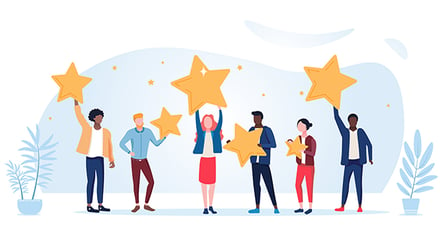 In previous years J.D. Power survey results have repeatedly highlighted gaps in customer service and technology. This year's customer perspective illustrates how servicer relief responsiveness and access to digital solutions under the pandemic have clearly made an impact on the borrower experience. This shift in perspective creates a tremendous opportunity for servicers to go the extra mile by leveraging favorable sentiments and delivering on customers' expectations for service and innovation.
The Survey Says
The 2021 study measured responses from 8,507 borrowers, breaking down their experience based on five factors, including customer interaction, communication, billing and payment processing, escrow account administration, and new customer orientation. Released alongside the report, J.D. Power's press release highlighted four key satisfaction findings from this year's survey:
Bank-affiliated servicers start to lose their edge to non-banks – The highest increase in 2021 satisfaction scores was tied to non-bank servicers, who beat out bank-affiliated servicers for the first time.
Forbearance lift will not last long – Borrowers falling in the "at-risk" category have repeatedly shown an increase in satisfaction scores. This year was no different, with the greatest satisfaction noted by borrowers in active forbearance.
Banks get satisfaction lift from non-mortgage services – Bank customer satisfaction scores were notably higher when customers used other bank products.
Need evident to expand engagement on digital self-service channels – Despite improvements on the digital front, the need for further enhancement was evident in survey results.

Barely more than a third of customers were able to find the information they needed on the first or second page of the servicer's website.

Once a customer has visited a third+ page, their overall satisfaction score dropped by more than 55 points.

The top three reasons cited by borrowers who noted they would switch servicers if possible included:

"Better/improved customer service"
"Easy access to help myself to information about my loan"
Better rates – a common response by customers.
Maintain the Momentum
Mortgage servicers need to take a pause… Make certain you avoid providing mediocre service and half-baked digital access that, when coupled with increasing forbearance exits and foreclosure filings, will erode positive customer service perceptions. Notably, this environment creates a call to action. Jim Houston, the director of consumer lending intelligence for J.D. Power, notes that "as we look at post-pandemic customer behaviors and responses of low-risk customers, we see that lift in satisfaction may be short-lived. In fact, despite the attention on relief programs, nearly one-fifth of current mortgage customers have had no interaction with their servicer during the past year. Mortgage servicers will really need to up their customer engagement games as the marketplace stabilizes." Don't let your borrowers fall into this category of no communication.
Seize the Opportunities
Reach out and ensure responsiveness and engagement. Listen to the expectations of your customers and prepare to up your game. Today's customer wants on-demand 24/7 self-serve access. Whether facing delinquency due to pandemic hardship, natural disaster, or other adversity, your customers want immediate access and answers. Don't leave them on hold. Let automation power your organization and empower your customers. With a single application and advanced APIs, you have the ability to centralize process workflows throughout your servicing operation, delivering a robust customer experience at every touchpoint. This single, straight-through, no-touch processing approach provides speed and efficiency to customer engagement, removing chaos from the transaction.

How CLARIFIRE Can Help
Servicers can deliver accessibility with streamlined automation and leverage the satisfaction that borrowers are expressing, without tapping already overloaded resources. Seize this momentum and stop building, developing, and bandaging your network of systems and solutions. Clarifire is a valued, proven industry partner who stands ready to help you and your team embrace truly innovative technology, offering modern automation and workflows that encompass sophisticated decisioning and workout rules. You can kickstart an organizational strategy that emphasizes what you do best while incorporating the CLARIFIRE® application into your design for innovation. Don't miss this opportunity to capitalize on a satisfied customer outlook. Contact us directly at 866.222.3370 or visit us at eClarifire.com.
Let us show you how to future-proof your organization with CLARIFIRE®.
Read these blogs and articles next

Jane has applied her vast experience (over 25 years) operating process-driven businesses to successfully redefine client-focused service. Jane has worked with expert programmers to apply cutting-edge web-based technology to automate complex processes in industries such as Financial Services, Healthcare and enterprise workflow. Her vision confirms Clarifire's trajectory as a successful, scaling, Software-as-a-Service (SaaS) provider. A University of South Florida graduate, Jane has received many awards related to her entrepreneurial skills.
Like this article? Feel free to share this with a friend or colleague!