Exhausted by change? Every company, mortgage-based or otherwise, is experiencing a shift in automation as an essential part of business. The timing of this shift, however, may seem untenable as the industry experiences record levels of activity on every front. New point solutions, applications, and big-box add-ons are being introduced into the market at a relentless pace. Each one promises to deliver a groundbreaking experience that is better, faster, and more efficient. The reality is that you often wind up managing too many applications, too many one-offs, too many upgrades, and still wind up with too many manual handoffs and too much risk. It's time to change up the approach and find an answer to the chaos.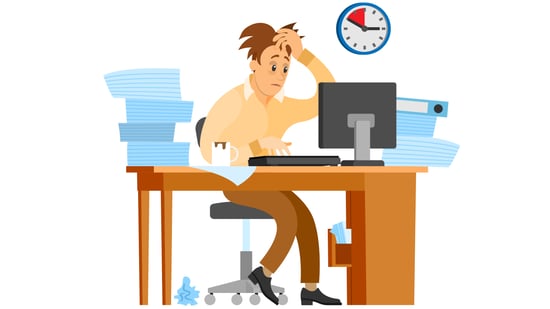 Are you maintaining compliance?
Implementing regulatory changes, preparing for agency oversight rigor and natural disasters such as hurricane Ida, as well as COVID-19 protections, cannot be ignored. This is especially true amidst record high origination volume, the roller coaster of forbearance volumes, deferrals, loan mods, and pent-up foreclosure filings. Compliance with these changes adds to the complexity of achieving operational soundness in today's mortgage servicing environment. It's time to add the software capabilities to embrace change with ease.
Are you drowning in point solutions, tools, and applications?
As servicing entities scramble to keep up with the nuances of regulatory change related to disaster and pandemic relief, the importance of the underlying moving parts is significant. The gaps, the lack of connectivity, and absence of seamless integration with other processes, applications, and critical third parties are a huge pitfall that needs to be fixed. It's time to embrace one process automation application that can fulfill your organizational needs.
Are you keeping up with customer demands?
The pandemic has catapulted our industry's desire for innovation to a new level as demands around both internal and external functionality and access have increased. The need to aggressively adopt innovation that blends all user, customer, and third-party activities into one technological approach has subsequently been hurtled forward as well under the pressure from customers seeking an automated 24/7, self-serve experience. Although this situation has created expanded capabilities and efficiencies, it has also added even more tools and applications to the mix. It's time to meet this challenge and ensure your customers have digital accessibility and rapid responsiveness now.
Are you consolidating and eliminating some of your systems?
The digital age is here. Yet, even with the most responsive systems, a keen focus on interoperability, and increasing ease of implementation, wholly managing your systems and leveraging your data requires a modern approach. Fragmented systems need to be consolidated into a nimble, changeable workflow application, with the capacity to connect systems and solutions, as well as affluently bridge the gaps. This is not a new focus; what is new is proven automation that offers real-time changeability to consistently realign and adapt to the rapidly evolving needs of your organization and our industry. It's time to ensure you have system automation and consolidation that seamlessly connects data and processes at the front of your business through to the end, with an inherent flexibility that supports today's change management needs.
Where are you with automated workflow?
Surviving and thriving in this highly volatile market highlights the need for mortgage servicers to prepare for tomorrow, not simply stay afloat today. Servicers need an aggressive approach to automated workflow. This includes business process optimization that pushes on all fronts to the next level of modernization. Embracing and operationalizing the power of workflow automation to implement the proven application organizations now depend on. It's time to embrace today's version of automated workflow.
Your organization can rise above today's relentless pressures by implementing proven scalable, modern process automation created and delivered by CLARIFIRE®. The CLARIFIRE application was launched to address the wreckage from the first financial crisis. With more than a decade evolving alongside and in advance of the industry, CLARIFIRE is designed to efficiently handle the thousands of requests for information, communication, qualification, and decisioning that today's mortgage servicers need. To find out more about rising above the pressures of volume, ongoing regulatory volatility, and breakneck speed evolution, visit eClarifire.com or contact us directly at 866.222.3370.
Let us show you how to future-proof your organization with CLARIFIRE®.
Read these blogs and articles next

Jane has applied her vast experience (over 25 years) operating process-driven businesses to successfully redefine client-focused service. Jane has worked with expert programmers to apply cutting-edge web-based technology to automate complex processes in industries such as Financial Services, Healthcare and enterprise workflow. Her vision confirms Clarifire's trajectory as a successful, scaling, Software-as-a-Service (SaaS) provider. A University of South Florida graduate, Jane has received many awards related to her entrepreneurial skills.
Like this article? Feel free to share this with a friend or colleague!