With policy and payment reform tied to quality care and clinical outcomes, hospitals need first-rate physicians that will help to drive changes and process improvements. Once these physicians are on board, the onus is on the hospitals to do their best to engage and retain them. One sure-fire way to do that is by providing physicians with all the tools they need to perform to the best of their ability, in the least amount of time.
Here's why: A happy and engaged physician provides better quality patient care and is much more productive. In a study presented by Gallup, physicians identified as "fully engaged" and "engaged" were compared to those rated as "not engaged" or "actively disengaged." The engaged physicians showed a 3% increase in patient referrals on the outpatient side. Even more impressive, inpatient referrals were an average of 51% higher. The system surveyed tracked the most engaged physicians at 26% higher productivity resulting in over $450K of increased revenue for the hospital, per physician.(1) Worth the investment? Many healthcare systems think so and are seeking the best solutions to attract and retain physicians while improving their bottom line metrics.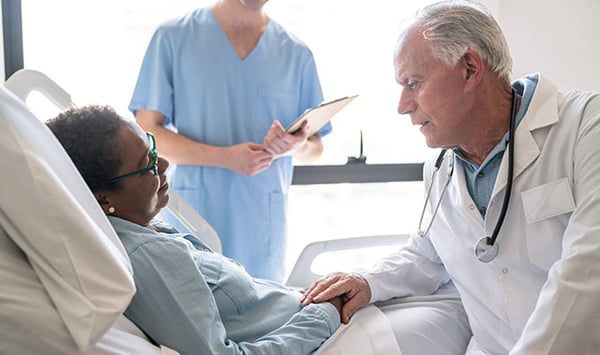 Why Technology
Branding an organization as the place where physicians want to be necessitates that hospitals make use of innovative technology to lay a solid foundation. Organizations must eliminate inefficient, disparate, or paper processes that open the door for leakage, waste, and related costs. Streamlining manual processes for physicians facilitates their ability to spend more time with patients. Subsequently, the technology allows the physician to focus on the patient, further elevating the care delivery process and clinical outcome.

With innovative workflow to optimize the environment, physicians can focus on what is in front of them. This means they can count on having the best tools to be in the right place, at the right time. Every. Single. Time. Using tools that will improve the physician's ability to treat more efficiently while simultaneously providing optimal, quality patient care is an attractive incentive to entice physicians to specific healthcare facilities.
What Physicians Want
Consider the busy physician who has multiple surgeries lined up for the day. The surgeon must have certain things in place to begin their day and to keep them on track. Ensuring support staff and clinical tools are all in the right place and ready to go when the physician needs it promotes a positive and happy work environment. The same is true for the busy cardiologist that is managing multiple, complex cases with a hectic schedule. These physicians must have technology that affords them with the ability to easily view patient co-morbidities and changes with their prognosis. Such is the case for all physicians, regardless of the role, specialty, or acuity of their patients.
Physicians are busy and want to work for organizations that are willing to demonstrate a commitment to partnering with them and their patients. In addition, when hospitals are looking for buy-in from physicians for quality or process improvements, they must consider how physicians think. Trained as scientists, they are evidence-based and data-driven. Therefore, when health systems are looking to obtain endorsement and assistance in driving forward their improvement programs, physicians will support decisions led by data much more rapidly.
Why Physicians Love CLARIFIRE HEALTH®
CLARIFIRE HEALTH has breakthrough technology that improves and automates processes for physicians by standardizing workflows for clinical pathway protocols. The benefits are especially helpful for chronic conditions and those pathways with shared payment models. The workflow is designed to pull discrete, clinical data that was previously unavailable or buried deep within hospital EMRs. CLARIFIRE HEALTH is tailored to support physicians by reducing care variations and providing key performance data that promotes well-informed decision making. Our proven results include reduced length of stay and readmissions. For more information, click here for additional information or request a demo.
If you liked this blog, read these next!
Tammy Bourassa
Tammy Bourassa leads the business account management team at Clarifire. She came to Clarifire with over 15 years of experience in selling and supporting client software solutions within the healthcare industry. Her industry knowledge ranges from pre hospital/EMS care to inpatient and rehabilitation care. Tammy has successfully led various sales, account management and operational teams. When asked, she said she really enjoys growing business by building relationships. "It's so much fun to work with all the flavors of people and to help solve their issues."
Like this article? Feel free to share these tips with a friend or colleague!