Natural disasters resulting from hurricanes, floods, wildfires, and earthquakes can strike at any moment, leaving behind a trail of destruction and devastation. In the last two months alone, unsuspecting homeowners have contended with the aftermath of Hurricane Idalia and the ravages of the Maui wildfire. Access to relief becomes a real struggle under this duress, compounded this year by the Federal Emergency Management Agency's critical funding shortfall. Under such trying circumstances, homeowners don't know where to turn and often rely on their mortgage servicer for answers to questions on financial relief to help recover and rebuild their lives. Are you prepared to respond to their needs?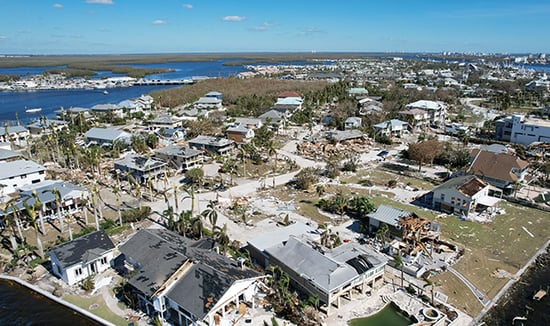 Will FEMA run out of funding?
The ferocity of this year's lead into hurricane season, falling on the back of unprecedented fire destruction in Hawaii, is quickly becoming even more alarming as the primary lifeline for relief, FEMA, faces a serious lack of funding. The agency recently stated that the fund was "approaching exhaustion," prompting the Biden administration to request $12 billion in emergency spending to replenish the Disaster Relief Fund. FEMA is the only provider of disaster relief funding, which is not a stable solution for the long run, leading FEMA to implement "immediate needs funding" restrictions and increase pressure on Congress to approve supplemental spending dollars. Additionally, the agency is prioritizing relief funding and will only direct future available funds "for critical response efforts to Idalia, the Maui fires and any other extreme weather events," according to FEMA Administrator Deanne Criswell.
Where does this leave homeowners and their servicers?
Despite the severity of the current disaster relief landscape, this is not the time to pause… for the sake of your borrowers and your organization. As history has shown us, this is merely the beginning of a calamitous storm season that, hopefully, you have prepared for. As you already know, the complex and time-sensitive nature of disaster relief efforts can overwhelm even the most diligent servicers, let alone the borrowers. This is where advanced workflow automation is a game-changer, enabling mortgage servicers to provide timely and accurate relief to homeowners in need, when and where they need it, often in real-time via mobile access.
Advancing your servicing automation
Have you strategically implemented your approach to workflow automation? Considering the pace of economic volatility, technological innovation, and changing industry landscape, your servicing automation is in need of a refresh. The first piece of advice is to be proactive and have the technology that powers the capabilities to survive the challenges.
Here's how to make it happen:
Need: Immediate Access – Homeowners need 24/7 real-time mobile access that is meaningful and offers automated results. This means technology designed to address initial concerns through self-serve options to click and activate relief requests and proactive systemic responses that address relief options rapidly and accurately.

High Volume of Requests – Bulk processing of like requests is a must in this environment, exponentially increasing response times, ensuring communication compliance, and automating relief eligibility and approvals.

Need: Expedited Relief – Proactive outreach to those borrowers in disaster zones plus advanced process automation to assist rapidly and accurately is today's success opportunity.

Relief Actions – Advanced automation intakes disaster requests, decision on current scenario data, and provides comprehensive options for relief.

Need: FEMA Response Navigation – Disaster relief comes over a period of time, which means servicers effectively addressing the initial request is insufficient. There has to be a coordination of relief that is rapid and visible

,

involving the servicer and FEMA, as well as mortgage insurance providers.

Complex Event Tracking – Sharing the relief activities of all relevant parties is highly complex and an ongoing challenge motivating our industry to innovate new ways of handling disasters.
The CLARIFIRE® Advantage
Natural disasters are unpredictable and devastating, leaving homeowners in dire need of financial relief and servicers scrambling to assist. Servicers play a vital role in helping their affected borrowers rebuild their lives, and the advanced workflow automation provided by CLARIFIRE® is a crucial component. Delivering high-volume request processing, expertly routing relief actions, and managing complex events have all been a part of the CLARIFIRE solution since the beginning. This proven application has been at the forefront of industry innovation, solving critical problems like natural disasters. In an era where disaster resilience is more important than ever, CLARIFIRE is the key to ensuring homeowners can access relief rapidly and effectively, and servicers will succeed in doing so.
Visit us at eClarifire.com or contact us directly at 866.222.3370 to advance your technology efforts and conquer unexpected disasters head-on with CLARIFIRE, truly BRIGHTER AUTOMATION®.
Read these blogs next

Jane has applied her vast experience (over 25 years) operating process-driven businesses to successfully redefine client-focused service. Jane has worked with expert programmers to apply cutting-edge web-based technology to automate complex processes in industries such as Financial Services, Healthcare and enterprise workflow. Her vision confirms Clarifire's trajectory as a successful, scaling, Software-as-a-Service (SaaS) provider. A University of South Florida graduate, Jane has received many awards related to her entrepreneurial skills.
Like this article? Feel free to share this with a friend or colleague!