Tortilla. Chicken. Beans. Rice. Tomatoes. Cheese. Avocado. Sounds like the perfect taco, right?
For the families with children getting treatment at Johns Hopkins All Children's Hospital here in our community, it's so much more than a perfect taco. It's a warm, home-cooked meal after an exhausting day.
Some of them travel very far from home in order to get the best possible specialized care for their loved ones and have no choice but to temporarily relocate and uproot their lives. After visiting with doctors, nurses, witnessing multiple tests, examinations and the possibility of receiving less-than-favorable news, the last thing a family wants to think about is making dinner. That's where the local volunteers come in!
Last week, several members of the Clarifire team volunteered at the Ronald McDonald West House in downtown Saint Petersburg. Each of us had our own set of responsibilities – from selecting the menu and shopping for ingredients to chopping tomatoes and baking dessert. Of course, we can't forget everyone's favorite – doing the dishes was part of it, too!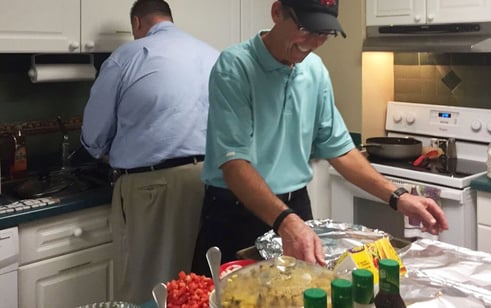 "It was like a well-oiled machine – perfectly set up and very organized," said Tammy Bourassa, senior account manager for CLARIFIRE HEALTH®. Fortunately for us, a member of our crew has experience working with the Ronald McDonald House and helped lead the mission for the first-timers.
Aside from bringing and preparing the food, the Ronald McDonald house has all the materials you need to cook a meal of your choosing. The staff members were there to assist with locating items in the kitchen and ensured everything played out like we planned.
So why did our volunteer team decide on tacos?
"You build as you go and pick what you like. There's something for everyone, and it gave our staff the opportunity to work together for a great cause," said Alan Bratton, President of Clarifire.
After we finished, the staff took care of the rest. Some of the houses can handle more people and see multiple families ready to eat at a certain time, while others – like the smaller West House – come and eat at their leisure. Leftovers are saved in refrigerators for families to enjoy when time permits.
In addition to designing the menu, shopping, bringing the food, cooking dinner, and creating a great team-building experience, our team was given a tour of the 18-bedroom house where families are allowed to stay if their child is currently undergoing treatment at the hospital. "The Ronald McDonald House has some great local and national sponsors working with them to provide everything from linens to mattresses," said Bourassa.
The houses also have meal programs and wish lists for everyday items needed within the organization. Clarifire was able to provide note pads, pens, screen wipes, applesauce, cereal, coffee K-Cups, decks of cards and canned tomatoes for those who need it most.
"The opportunity to volunteer our time and work together for such a worthy cause as the Ronald McDonald House was very rewarding," said Pam Donahue, our Client Program Manager.
Healthcare is part of the community that lives there. Volunteering contributes to the successes of sharing life's challenges and making a difference. Perhaps the greatest satisfaction of all came from the director, who shared some feedback from our event:
"Another thank you for such a great dinner the other night, it was a pleasure having your group here at West! And just so you know, the families came in a steady stream into the evening and came back for more for lunch the next day, so it was a big hit!"
Would we do it again? Absolutely.
Want to host an event of your own with the Ronald McDonald houses? Here are some quick guidelines to get started. For more information, visit their website. View more pictures from the event by visiting our Clarifire Facebook page!

Jane Mason, Founder and CEO
Jane has applied her vast experience (over 25 years) operating process-driven businesses to successfully redefine client-focused service. Jane has worked with expert programmers to apply cutting-edge web-based technology to automate complex processes in industries such as Financial Services, Healthcare and enterprise workflow. Her vision confirms Clarifire's trajectory as a successful, scaling, Software-as-a-Service (SaaS) provider. A University of South Florida graduate, Jane has received many awards related to her entrepreneurial skills.