In a recent blog, we highlighted an American College of Healthcare Executives (ACHE) survey addressing the top issues confronting hospitals today. It was no surprise that financial concerns topped the list based on the CEOs surveyed. Numerous factors can have a direct impact on finances and the overall sustainability of hospital operations. One of those factors, government mandates, found itself second in the list of top issues confronting hospitals. Keeping on top of all the changes and managing their impact on the bottom line can sometimes be easier said than done.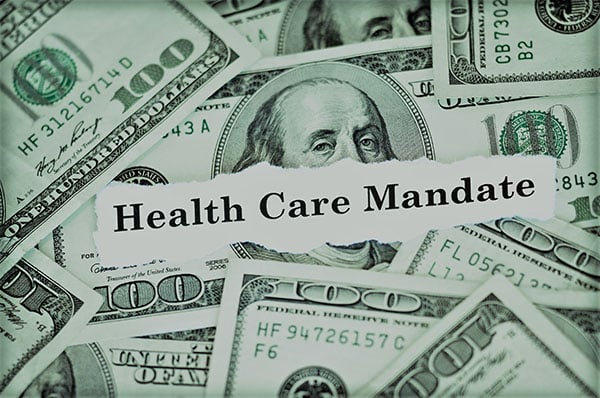 The U.S. Government is the primary regulator of healthcare. They are also the single largest payer in healthcare, accounting for more revenue than 10 times any other insurance carrier(1). Because of this, the government has the most influence in shaping future business models within healthcare today. Between Centers for Medicare and Medicaid Services (CMS) regulations and audits combined with legislative uncertainty and the cost of remaining compliant, organizations must find a balance that will keep them financially solvent. Two of the biggest concerns resulting from government mandates are the related insurance reimbursements and penalties that affect the organization's finances.
Reimbursements
The problem:

Government reimbursement levels are historically lower than other payers, and can often cost the organization more to care for the patient than the payment they receive. This is especially true with Medicaid. In many cases, the reimbursement is also tied to quality, making it a double-edged sword. Because of this, many organizations will 'cost shift' by raising their private payer pricing to help recoup the losses. This results in higher costs for everyone. Also, because most private insurance companies follow Medicare's lead with pricing, it can create a vicious cycle that will continue to shrink hospital margins.



What to do?

One way for organizations to manage government reimbursements is having systems in place that will help them eke out every dollar they can. Working with reimbursement's that are tied to patient quality requires automated processes that streamline the organizations work, minimize human error, and provide real-time visibility for the organization to make the most impactful changes in the shortest amount of time.
Penalties
The problem:

Government Penalties related to Quality, such as Readmission and Hospital-Acquired Condition Reduction Programs, can be costly for healthcare organizations. It is not uncommon for hospitals to lose hundreds of thousands of dollars (and more!) in payments each year due to these two penalties alone. This can be the difference between an organization making a profit or experiencing a loss.
What to do?

With such a large amount of money at stake, most healthcare providers have taken steps to measure and minimize their penalties related to re-admissions and hospital-acquired conditions. Keeping on top of the strategies to reduce these penalties means using technology that will take care of the 'heavy lifting' for their processes. Although the tools they use may vary, high performing healthcare organizations track and trend their results and in order to make constant improvements that ultimately improve their finances.
Overwhelmed?
Don't let Government Mandates get you down, we can help! CLARIFIRE HEALTH® workflow automation provides healthcare organizations with easy to use mobile technology that has been proven to improve patient quality, safety, experience, and even clinical outcome. Our technology is completely configurable and automates all types of patient and staff rounding processes, audits, clinical workflow, and more. Contact us today for more information or to request a demo.
If you liked this blog, read these next!
Tammy Bourassa
Tammy Bourassa leads the business account management team at Clarifire. She came to Clarifire with over 15 years of experience in selling and supporting client software solutions within the healthcare industry. Her industry knowledge ranges from pre hospital/EMS care to inpatient and rehabilitation care. Tammy has successfully led various sales, account management and operational teams. When asked, she said she really enjoys growing business by building relationships. "It's so much fun to work with all the flavors of people and to help solve their issues."
Like this article? Feel free to share these tips with a friend or colleague!
References:
1https://mnnurses.org/medical-waste-rising-cost-healthcare/