This past May marked the 12-year anniversary of the NQF membership's endorsement of the Hospital Consumer Assessment of Healthcare Providers and Systems (HCAHPS) survey as a measure of adult patient satisfaction administered by the Centers for Medicare & Medicaid Services (CMS).

Over the last decade, many hospitals have seen patient satisfaction scores from the HCAHPS survey affect reimbursement rates. In fact, hospitals could either lose or gain up to 1.5% of their Medicare payments in 2015, and CMS is set to increase this over the next few years with 2% of reimbursement dollars being at risk in 2017.1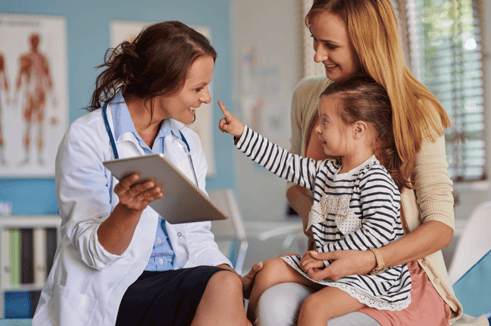 Until recently, the HCAHPS survey was only administered to patients 18 years of age and older. Now, a pediatric version of the HCAHPS survey is being tested by CMS2 to determine if they will add it to the Child Core Set, which could impact how hospitals get paid for pediatric patients receiving Medicaid or CHIP.

What is Child HCAHPS?
The Child HCAHPS is designed to measure the experience of a pediatric patient and his or her family during a hospital stay. With the information collected from the surveys, the hospital can determine the best ways to improve pediatric care, as well as patient and family satisfaction. When publically reported, patients and parents can use the information to make better informed decisions about their inpatient care.


In a recent Modern Healthcare article, Dr. Mark Schuster, Chief of Division of General Pediatrics, at Boston Children's Hospital talked about why CMS wanted the Child HCAHPS developed. "It was felt there was a major gap and [CMS] wanted to fill it," said Dr. Schuster. "Our goal was to give a voice to families."

Who Qualifies for the Child HCAHPS?
Not all pediatric patients qualify for the Child HCAHPS survey. For the survey to be administered and recognized by CMS the patient must:
Have a parent or legal guardian on record
Be treated as an inpatient for a minimum of one overnight stay at the healthcare facility
NOT have a psychiatric principal diagnosis upon release
NOT be discharged to a court or law enforcement official, hospice, or a foreign home address

What Parts of Patient Satisfaction does the Child HCAHPS Measure?
If a child qualifies for the survey, the parent or guardian will be asked to complete an assessment of their hospital experience in three core areas:1
Communication with the Parent - This is the largest portion of the assessment focused on communication between the parent and the child's health care providers. It includes questions measuring the guardian's satisfaction with communication about the child's medication, ER care, and overall health care.
Communication with the Child - This portion of the survey measures the parent's perspective of the nurses and doctors interactions and communication with the pediatric patient.
Attention to the Child's Safety and Comfort - These survey items cover the healthcare practitioner's attention to the child's pain, responsiveness to call buttons, and overall child comfort and protection during their visit.
The Child HCAHPS concludes with standardized questions about the cleanliness and noise-level of the child's room, as well as an overall hospital rating.

Get Ahead of the Curve: Implementing Child HCAHPS
Currently, CMS does not require hospitals to participate in Child HCAHPS surveys. But, they announced in December 2016 that they are performing real-world testing this year. Many believe it is only a matter of time before CMS will use the Child HCAHPS survey for public reporting and pay-for-performance, in alignment with how they currently use the Adult HCAHPS for most hospitals in the U.S.


The question then becomes: how will you manage and monitor the patient experience to promote the best possible Child HCAHPS scores to ensure reimbursements don't suffer?

If your hospital may be impacted by Child HCAHPS becoming a national standard, it's important to take proactive steps to prepare.


One way to do this is by surveying your pediatric patients and their families now. You can download the Child HCAHPS Survey on the ARHQ's CAHPS website.3 Not only will this help you get a better idea of how your team is currently performing, it will also identify areas in need of improvement. We recommend you investigate technologies that will connect to the EHR and the patient engagement solutions to keep the nurses armed with data critical to patient comfort and experience. Finally, by surveying with a purpose, your pediatric patients and their families now will prepare your staff for what's to come before their actions could influence hospital reimbursements.

Another way many hospitals are preparing for the Child HCAHPS survey is by implementing mobile technology coupled with a robust workflow and reporting engine to create cohesive and streamlined experiences along with standardized processes for pediatric patients and their families. By having access to the child's information at their fingertips on a tablet or other mobile device, hospitals can provide more accurate and personalized exchanges on the spot, improving patient and family communication. An innovative rounding solution launches workflow, distributes notifications, requests, escalations and more with the click of a button. Nurses are presented with decisionable data that leads to resolving a potential issue prior to it occurring, bringing communication across all lines into one complete circle of care. This approach has been proven to improve outcomes, quality and perceptions of care.
Ultimately, if CMS testing is successful, experts predict the Child HCAHPS survey will hold a similar weight on reimbursements to its adult counterpart. Currently, Adult HCAHPS data accounts for 25% of hospitals' total performance scores in CMS hospital inpatient value-based purchasing programs.4
Whether the Child HCAHPS survey is implemented in 2018 or in a few years, proactively measuring and improving the pediatric patient experience is crucial to hospitals' success across the country.
References:

Lauren Walling
Lauren Walling is a graduate of Emory University with a degree in Industrial Psychology, as well as an MBA from the John Sykes School of Business from The University of Tampa. She currently sits on the Board of Fellows at the University of Tampa, and is a member of the Healthcare Business Women's Association, National Association of Professional Women, and the Morton Plant Skip Cline Society. Lauren works with large Healthcare Systems implementing Patient Experience Solutions that streamline processes, increase patient experience and improve quality and safety.