The industry continues to hunger for technology to improve workflow, as well as streamline and automate operational efficiencies. While these investments promise a competitive edge in a challenging environment with tight margins, other factors, outside of a servicer's control could also have a big impact on business profitability.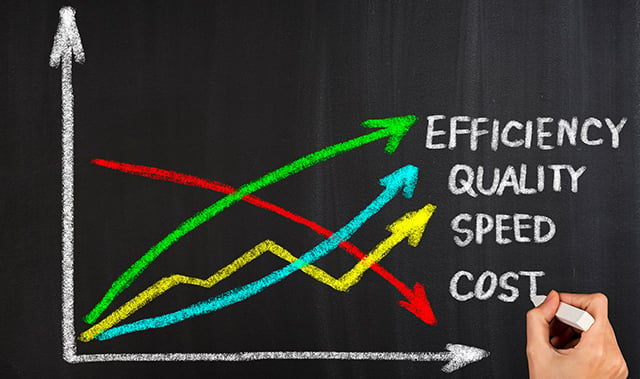 Mortgage lenders, servicers and government entities cover the entire gambit of technological innovation, from the most advanced to reliance on decades old systems and manual processes. While servicers cannot always select their business partners, they can be informed about the direction that innovation is taking among key players, continue to focus on internal automation, and seek assistance from experienced vendors.
Know Your Lenders
It is increasingly important for servicers to have a basic understanding of the level of technology and automation in use by the lenders, insurers and investors they work with. For example, are you servicing loans for a small independent lender that has manual onboarding processes, or Quicken Loan's Rocket Mortgage, who will dictate how data is used?
Your answer should impact your assumptions about loan level data, how it is incorporated into your systems of record, which data fields are custom, lender specific, or closer to industry standards. How data is assimilated into your systems from your lenders and other partners determines the accuracy of loan set up, future escrow payments, investor remittance and most importantly your loss mitigation processes should the borrower default.
At the onset of loan setup numerous delays, exceptions and issues can occur if your servicing teams are not in the loop on technology changes that are taking place in your lender partners shops. As technological advancement continues, more and more lenders, even smaller players, are likely to adopt basic solutions in lieu of manual intensive processes, or inflexible systems.
In the meantime, however, efforts like the Mortgage Industry Standards Organization (MISMO) are helping establish a baseline and consistency for industry stakeholders. The Mortgage Bankers Association recently announced a new $2 million investment in MISMO. The investment will fund ongoing initiatives to standardize and refine uniform mortgage datasets throughout the mortgage lifecycle, including origination, servicing, investor delivery and agency guarantee.
Know Your Guarantors
Government entities similarly vary in their degree of innovation. While the government-sponsored enterprises (GSEs) have been at the forefront of technological advancement, Ginnie Mae is working towards retooling their systems. Other entities, such as the Federal Housing Administration (FHA) lag far behind industry standards due to lack of approved funding.
In recent years the GSEs have developed several projects to help both lenders and servicers. Freddie Mac created a new automated collateral evaluation (ACE) solution, complimenting Fannie Mae's Data Validation Service (DVS). Fannie Mae continues to build on its Day 1 Certainty program and its automated programming interface (API) platform.
Ginnie Mae plans to catch up with innovators over the next two years. Last year, they announced their 2020 plan to modernize programs and infrastructure. Ginnie Mae continues to migrate efforts to improve access to its mortgage securitization platform and enhance support for lender and servicer partners. Although no concrete plans are yet in the works, FHA could also see a major overhaul of its IT infrastructure in the near term. President Trump's Fiscal Year 2020 proposed budget would create a lender fee on FHA lenders that would build a $20 million fund to invest in systems updates.
Look for Proven Industry Resources
Although servicers have minimal control over their lender and investor partners, they can continue to invest internally to smooth out the effects of disparate levels of innovation. Technology solutions and workflow automation allow servicers to better control timelines, resources and risk across all engagements. This scenario makes it highly advantageous to look for industry resources such as Clarifire that have helped to solve servicing issues and evolve innovation for more than a decade.
By providing flexibility and transparency through powerful workflow, CLARIFIRE ® is known for its ability to automate and replace existing processes. The CLARIFIRE® automated workflow, all in one application, allows servicers to deploy unlimited business rules and operational processes where improvement is needed most. Servicers learn how to gain access to innovation across all areas within their organization with Clarifire and the CLARIFIRE application, as a trusted partner and resource.
Servicers should also look to their vendor partner resources, like Clarifire, for expert insight into how to transform operational challenges presented by outdated internal and external systems and processes. Vendors can also help servicers more effectively communicate with business partners, from originators to investors, to government agencies, and drive further automation across the entire loan life cycle. Making it easier and more automated interacting with investors, agencies and partners provides your organization with the edge on your competitors.
For more information on how you can leverage Clarifire's expertise and technology to manage your business partner relationships, improve process efficiencies and gain access to innovation, contact us directly at 866.222.3370. Let us show you how to future-proof your organization with CLARIFIRE®. Truly BRIGHTER AUTOMATION ®.
If you liked this blog, read these next:

Jane has applied her vast experience (over 25 years) operating process-driven businesses to successfully redefine client-focused service. Jane has worked with expert programmers to apply cutting-edge web-based technology to automate complex processes in industries such as Financial Services, Healthcare and enterprise workflow. Her vision confirms Clarifire's trajectory as a successful, scaling, Software-as-a-Service (SaaS) provider. A University of South Florida graduate, Jane has received many awards related to her entrepreneurial skills.
Like this article? Feel free to share this with a friend or colleague!