In today's technologically advanced world, artificial intelligence is rapidly evolving and emerging through the modernization and adoption of advances in business process automation. The opportunities and availability are expanding exponentially, with questions around readiness simultaneously compounding. The incorporation of AI promises to significantly reduce workload, but how and where do you manage the introduction of these capabilities into existing operational and systems infrastructure? As you can imagine, the actual adoption of AI can be quite complex and, in a worst-case scenario, can create layered risk.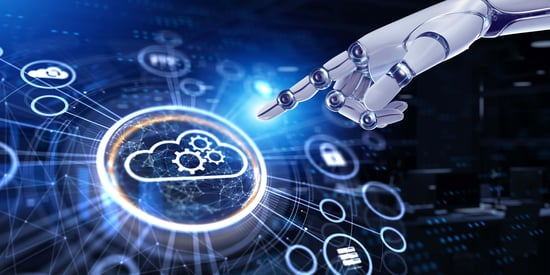 The best place to start is by ensuring you have a configurable business process workflow automation application as your foundation. Clarifire leads the industry in strategically positioning its clients with the proven CLARIFIRE® application. By automating the implementation of end-to-end workflows, CLARIFIRE® delivers a strong process automation ecosystem needed as the operational groundwork prior to delving into emerging AI technology. This essential approach is crucial to your business and prevents exposure to the early pitfalls associated with AI. The importance of this approach, which leverages workflow automation to support the assimilation of AI, enhances efficiency and visibility and secures customer satisfaction while paving the way for successful AI integration in your mortgage servicing operation.
Streamlining Data Collection and Verification
Workflow automation enables servicers to innovate and streamline the collection and verification of borrower data, eliminating risk and ensuring data integrity as AI is introduced into the equation. By modernizing your organization's workflow automation, the integration with AI becomes more controllable and visible. Business rule automation applications, such as CLARIFIRE®, use predefined logic that is driven by the business, resulting in real-time, dynamic, repeatable user displays and results. AI brings higher levels of opportunity and add adaptability through machine learning algorithms that support more sophisticated dynamic capabilities, including sentiment analysis and personalization for users.
Accelerating Decision-Making and Loan Modification
Automated workflows enable mortgage loan servicers to connect disparate internal roles and expedite workout modification approvals, as an example, and real-time decision-making dynamic displays. By establishing predefined rules, logic, and conditions, workflow automation will rapidly assess loss mitigation options, including borrower eligibility, risk assessments, and drive rapid notifications and results. Machine learning algorithms can then be incorporated to help evaluate trends and improve performance while providing insights for learned behaviors. Accelerating decision-making through machine learning and AI problem solving, and the combination of the technologies offers some game-changing automation.
Enhancing Communication and Collaboration
Workflow automation facilitates seamless communication and collaboration between the borrower and servicer, as well as industry stakeholders. Automated notifications, transactions, and real-time updates are triggered at various stages of the servicing lifecycle, including servicing transfer, escrow analysis, hazard insurance claims, and loss mitigation. Additionally, workflow automation can facilitate integration with customer relationship management systems, tapping real-time data and decisioning. These operational activities can be improved with AI as the level of intelligence and speed of processing are significantly elevated. One of the first places where servicing communications are improved is through intelligent document processing that uses OCR and data capture in bulk, adding efficiency, growth, and scale, lowering costs, and eliminating repetitive tasks.
Mitigating Compliance Risk
Compliance and regulatory adherence are critical aspects of the mortgage servicing lifecycle, impacting various operational stages and creating an important dependency on regulatory and requirement identification, analysis, and inclusion. Workflow automation plays a vital role in mitigating compliance risks by enforcing standardization, repetitive logic results, auditability, and alignment with agency edicts. Automated workflows incorporate compliance checks (business rules) on processes, data collection, and integrity of AI plugins. Coupling the technologies optimizes results and enhances transparency and governance while alleviating overall risk.
Preparing for AI Integration
By implementing modern workflow automation first, mortgage servicers establish a solid foundation of business logic and open the door for successful integration of AI technologies. This business process automation delivers structured, organized, quality-controlled user interaction and accessibility and a sophisticated decisioning rule management framework, which is essential for deploying AI models. Workflow automation generates valuable insights and controls into exceptions, patterns, and trends that result from the careful implementation of AI. These insights serve as helpful validation of inputs and guidelines for using AI-driven predictive models, risk assessments, customer personalization, and fraud detection.
CLARIFIRE® delivers modern workflow automation to mortgage servicing operations as a strategic, innovative solution that significantly enhances efficiency, accuracy, and borrower satisfaction. By implementing CLARIFIRE automation, organizations will streamline processes, accelerate decision-making, and pave the way for successful management of AI benefits.
CLARIFIRE® is Truly BRIGHTER AUTOMATION®.
Read these blogs next

Jane has applied her vast experience (over 25 years) operating process-driven businesses to successfully redefine client-focused service. Jane has worked with expert programmers to apply cutting-edge web-based technology to automate complex processes in industries such as Financial Services, Healthcare and enterprise workflow. Her vision confirms Clarifire's trajectory as a successful, scaling, Software-as-a-Service (SaaS) provider. A University of South Florida graduate, Jane has received many awards related to her entrepreneurial skills.
Like this article? Feel free to share this with a friend or colleague!