At the core of its mission, Accountable Care Organizations (ACOs) strive to achieve the highest level of quality care for patients, thereby reducing waste and cutting related costs for hospitals. Regardless of the approach, the Centers for Medicare and Medicaid Services (CMS) states an essential component for ensuring the best results is to embrace strategies that will support quality across the entire patient journey of care. More specifically, improving communication and collaboration between points of treatment can remove roadblocks that prevent top-quality care. The three biggest areas of concern for breakdowns in care happen to patients with chronic conditions, patients admitted to the Emergency Department, and patients transitioned to Long Term Care. We have some insights on the strategies used by thriving ACOs that help resolve care coordination issues.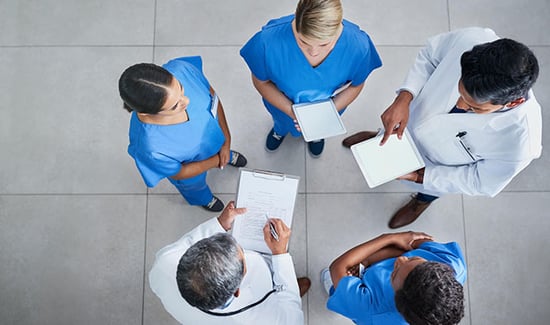 Chronic Conditions
Chronic conditions are the majority of our entire healthcare annual spend. In fact, the Centers for Disease Control and Prevention (CDC) says 90% of the nation's 3.3 trillion in annual healthcare expenditures are for people with chronic and mental health conditions.(1) Not properly managing these chronic conditions results in decreasing patient outcomes and skyrocketing medical expenses. An organized delivery system that includes instant access to patient history, key performance data, and standardized protocols based on best practices helps to manage these conditions successfully.
How to Solve:
There are two things hospitals can do to improve the chances of a positive experience with the best possible clinical outcome. According to the National Center for Biotechnology Information (NCBI), educating patients on their disease and promoting self-care at home has been shown to improve the patient outcome.(2) Additionally, ACOs recommend that providers of care leverage operational (non-clinical) technology to fully assess the patient with real-time information that drives evidence-based decisions. Care management strategies with process automation workflow combines the patient needs with the clinical care pathway protocols. By using industry standards and best practices, organizations are removing variation in the delivery of care and breakdown of communication between caregivers.
Emergency Department Care
By the very nature of emergency care, it is easy to understand how reduced communication and collaboration happens. Patients typically arrive at the Emergency Department (ED) with minimal medical history available, and are in some sort of distress. So, ED caregivers must treat what they see in front of them. However, ACOs emphasize the importance of this information getting passed on to key team members associated to the patient's primary care. This helps the caregiver to properly ascertain the best next steps in care management and avoid costly readmissions.
How to Solve:
In addition to sharing the patient visit interactions with other key caregivers, ACOs recommend that hospitals have a process in place to follow up with patients post-discharge. Performing a standardized post-discharge survey goes a long way toward solving care transition challenges. With uniform questions and a methodical workflow based on best practices, providers can obtain important information, such as social determinants, that can affect the patient experience and outcome. Providers have the opportunity to review written plans of care, nudge the patients to continue their home care plan, and go see their primary care physician soon.

Long Term Care
When patients require post-acute care, the hospital typically coordinates for the patient to be moved to a skilled nursing facility (SNF). These transitions from the hospital to the SNF are often areas of communication breakdown that disrupts patient care. According to the NCBI, one in four Medicare patients hospitalized for acute medical illness is discharged to a skilled nursing facility (SNF); 23% of these patients are readmitted to the hospital within 30 days.(3) Therefore, the importance of care transitions between hospitals and SNFs is stressed to ensure the best outcomes for the patients and results thriving hospital systems are reaching for.
How to solve:
ACOs recommend that hospitals are diligent in doing their homework to find SNF partners. The hospital and SNF should meet to define clear and standardized expectations and protocols to follow. Ongoing meetings between these caregivers will help provide necessary collaboration. An important component is the analysis of clinical data related to readmissions and outcomes. Tracking and trending the outcome data promotes necessary visibility for providers to improve their communication and quality measures. Choosing SNF partners wisely and working with them to fill the gaps in care provides the patient a better experience and ultimately improves their outcome.
Game Changer? You Decide
Ever wish you could solve one or all of these things in a single solution? You can! Using workflow that combines clinical accessibility to critical information for the right person, at the right time, for powerful evidence-based decisioning, Clinical Pathway workflow automation, Post Discharge Audits, and trending outcome data for process improvements are just three examples of what we do. These strategies work. If you have a process, CLARIFIRE can improve it with workflow! Ask us how TODAY.
If you liked this blog, read these next!
Tammy Bourassa
Tammy Bourassa leads the business account management team at Clarifire. She came to Clarifire with over 15 years of experience in selling and supporting client software solutions within the healthcare industry. Her industry knowledge ranges from pre hospital/EMS care to inpatient and rehabilitation care. Tammy has successfully led various sales, account management and operational teams. When asked, she said she really enjoys growing business by building relationships. "It's so much fun to work with all the flavors of people and to help solve their issues."
Like this article? Feel free to share these tips with a friend or colleague!
References