We all know, providing a safe environment for patients to recover is a fundamental part of offering quality patient care that fosters the best possible outcomes. With healthcare demands as they are, it can be challenging for organizations to balance complying with regulatory requirements while creating the safest place for patients to heal. Lean staffing ratios combined with regulatory, operational and administrative burdens can lead to increased safety issues.
In March of 2018, the World Health Organization (WHO) stated that patient safety is a global health concern. When comparing a person's chance of harm while traveling in an airplane versus in a healthcare setting, the statistics are staggering. The WHO states you have 1 in a million chance of being harmed in a plane crash. While in healthcare, the chances are 1 in 300 that you will be harmed.(1) It is time to change those odds, for the better! Let's talk about 3 of the safety challenges facing healthcare organizations, their impacts, and the solutions that can change the results.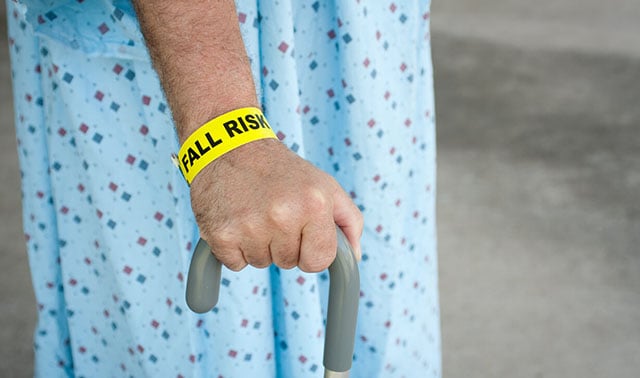 Challenge: Patient Falls
The Impact
Unfortunately, patient falls within the hospital setting are not uncommon. Therefore, preventing them is a major ingredient in providing a safe environment. The Joint Commission reports an average of 30-50% injury rate due to falls in the hospital each year. These avoidable falls impact patient outcomes, resulting in increased length of stay and costs the hospital thousands of dollars per patient.(2) Fall Prevention protocols have been established by hospitals around the country to address this issue. However, success of the organizations is very much dependent on having the right technology in place to implement throughout the hospital system.

The Strategy to Solve
Prevention strategies within healthcare organizations must include staff training coupled with uniform, automated processes that will standardize and track the patient care provided. Additionally, workflow technology must deliver the vital information to executives that is necessary in order to make necessary improvements. The workflow technology most chosen to solve this is known as Purposeful Rounding. Purposeful Rounding, a.k.a. "Hourly Rounding" is an evidence-based method that has been shown to decrease falls in hospitals. This rounding approach is a nurse-driven methodology that anticipates and addresses patient needs with regular check-ins on patients. The proactive approach focuses on the 4 P's: Potty, Pain, Positioning, and Peripheral. In addition to decreasing falls, hourly rounding has added bonuses such as decreased call light requests and an elevated patient experience. The key to establishing and driving a sustainable program with meaningful results is by removing the heavy, manual lifting with technology automation.
Challenge: Infection Control
The Impact
Avoiding Hospital Acquired Infections (HAIs) for controlling and preventing the spread of other infectious diseases within the hospital are critical components for patient safety. With the resurgence of outbreaks for diseases, such as the measles, combined with increased antimicrobial resistance, those risks continue to grow. According to Leap Frog, each year "1 out of every 25 patients develops an infection while in the hospital."(3) Preventing patient harm requires organizations to have repeatable, auditable, safety-related processes in place. Easy-to-use, automated technology that measures prevention program effectiveness enables caregivers to deliver the best possible care and patient outcomes. These processes typically have ongoing assessments to ensure the policies are continually updated as changes occur.
The Strategy to Solve
Infection Control and Prevention requires organizations to embrace uniform precautions, processes, and protocols. Once developed, they must be adopted across the health system and engrained within the organizational culture. Automated infection control audits are a solution used by leaders to effectively reduce and prevent incidents of infection. Infection Control Audits are the best way for hospital leaders to measure where they are in reference to adherence with prevention control programs. They lead hospital executives to what action is needed to improve upon results. You cannot improve what you do not measure, and you need technology to do it right. By using proactive auditing workflow, reduction in HAIs becomes a reality.
Challenge: Lacking Visibility and Accessibility to Patient Data
The Impact
It is no secret that the relationship between EMRs and caregivers can be complicated. According to a study presented by Healthcare Dive, there is a large amount of variance in EMR usage, which can cause harm to patients.(4) Caregivers need easy access and visibility to evidence based data that will provide them with the full picture of the patient, clinically and personally, very quickly. However, attempting to pull data that is buried deep within EMR layers takes a vast number of clicks, numerous screens, and sometimes altogether different systems to pull out and then compile the information needed. This chart scouring and lack of critical data, impacts safety, outcomes and employee retention. Caregivers are busy and become frustrated when they cannot find what they need when they need it. The lack of accessibility can lead to shortcuts or variation in processes that inadvertently can cause patient harm. Reviewing data historically is not the answer, that is for certain.
The Strategy to Solve
Deming said it best with, "Uncontrolled variation is the enemy of quality." The sheer volume of data entered within an EMR tells us that locating the information needed will be a challenge. Fortunately, advancements in technology lends itself to organizations here, solving this issue by integrating with a workflow application. Implementing workflow that will automatically display critical, evidence based data for the clinical pathway is the most advanced and technologically savvy way to solve this challenge. Providing relevant data vital to the patient outcome is just the beginning. By standardizing discrete lines of care, organizations are able to hone in on and eliminate variations of care.
Need help?
CLARIFIRE HEALTH® helps organizations tackle each and every one of these issues with our robust workflow application. Our solutions integrate with the EMR to provide easy access and full operational visibility of the patient's big picture when they need it. CLARIFIRE HEALTH assures easy access and offers caregivers the critical data that will maximize patient care and experience while improving the overall quality measures for the organization. CLARIFIRE HEALTH is truly BRIGHTER AUTOMATION®, transforming healthcare one organization at a time.
If you liked this blog, read these next!
Tammy Bourassa
Tammy Bourassa leads the business account management team at Clarifire. She came to Clarifire with over 15 years of experience in selling and supporting client software solutions within the healthcare industry. Her industry knowledge ranges from pre hospital/EMS care to inpatient and rehabilitation care. Tammy has successfully led various sales, account management and operational teams. When asked, she said she really enjoys growing business by building relationships. "It's so much fun to work with all the flavors of people and to help solve their issues."
Like this article? Feel free to share these tips with a friend or colleague!