Servicing institutions are well aware of the need to stay out in front of agency scrutiny, examinations, and of course consent orders. But what happens as your focus is eroded under the pressures of record-level volume and a roller coaster of regulation? There has been a legitimate lack of time and resources for mortgage servicers, as well as latency in technology, and not to be overlooked…. the pandemic impact. Where does this leave your organization as you plan for 2022? As the industry prepares to close out another year filled with unimaginable obstacles and hurdles, there is a real opportunity to reinvent your approach to business by leveraging successes and tapping into automation that effectively propels your organization into the future.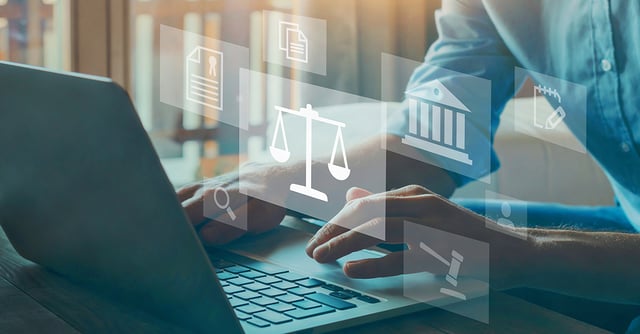 Get Creative – Rethink Regulatory Action
Regulating agencies issue consent orders, enforcement actions, and fines throughout the year. Our industry had a bit of a reprieve during the pandemic, but regulatory entities are back in full force and the best course of prevention is preparedness. A path that is not near as daunting as it may seem when you rethink your response to examination and enforcement, which can be as simple as embracing a few simple means of structure:
Requirements – A solid incorporation of federal, state, agency, and investor guidance necessitates a set of rules and decisioning that can encompass a literal maze of rules and regulations. Partnering with experienced vendors that accurately and effectively incorporate these requirements into a highly flexible framework can be a gamechanger.

Documentation – Ensure there is a means for documenting your internal controls and risk management practices. Policies and procedures are best supported if they mirror your operational activities. In today's world of modern automation, these activities can be mapped into sophisticated business rule-driven workflows, supporting auditable documentation needs, as well as process execution.

Roadmap – As alarming as enforcement actions or consent orders may be, they create the perfect roadmap for building compliant workflow within your organization. Drawing from the following findings in a consent order issued earlier this year, some clear areas for your risk management approach can be established:
"Internal controls and risk management practices do not support current risk profile and size of… servicing portfolio."

"Deficiencies and unsafe or unsound practices" present in "performance and response to issue(s) identification, remediation, risk oversight, and accountability within first line operations, including default and servicing operations and… information technology (IT); and internal controls and operational risk management practices."

Failure "to take timely corrective actions to remediate… deficiencies and unsafe or unsound practices."
Grasp Automation – Instantly Minimize Risk
As your organization builds on industry and internal lessons learned to ensure organizational readiness, modern workflow automation effectively minimizes risk by bridging the gaps and interconnecting all processes, thereby creating seamless servicing. Take a quick look at how regulatory concerns highlighted above could be easily avoided and associated risk mitigated:
Responding to issues – Map out your response action plan and fully automate the underlying processes, so when an issue occurs, it is identified, automatically distributed for action, the corrective action takes place and is subsequently captured, and the history preserved.

Identifying and isolating exceptions – With automated workflow, internal, investor and agency requirements drive decisioning, risk controls and governance becomes inherent. This creates visibility, supporting easy identification of exceptions, which can then be handled in an effective and timely manner.

Tracking remediation activities and timeframes – When operational processes are automated with modern workflow, business rule-driven activities and timeframes are achieved throughout the process lifecycle, proactively and systemically driving not only remediation, but exception visibility and continual oversight. Risk mitigation is simplified as obstacles are displayed in real-time and can be mitigated before becoming an issue.

Creating accountability – It's difficult to create accountability without traceability; however, once processes and practices are automated, then issues and actions are readily identifiable and attributable, making accountability inherent to your operations.

Eliminate the Chaos – Crush Inefficiencies & Exposure
Today's mortgage servicers have the chance to push beyond the chaos of the pandemic and avoid the pitfalls that occur during periods of record-breaking volumes. Simultaneously adhere to regulatory inference to focus on your system of internal controls, default operations, and information technology with a proven workflow automation partner, Clarifire. Delivering extensible and flexible automation that is uniquely designed to digitize your servicing operation, CLARIFIRE® integrates your data and logic into an innovative technology application that incorporates the current myriad of industry rules and regulations. This data is used in conjunction with sophisticated decisioning automation that leverages workout rules, eligibility determination, workflow exception processing, and so much more. This technology drives business processes using interactive workflows that support 24/7 self-service access, no-touch straight-through processing, and a modern mobile design.
The capabilities and possibilities that your organization can achieve with CLARIFIRE® epitomizes modern automation and is the premier industry solution – More importantly, this is automation that mitigates risk in today's environment. If you're ready to ensure operational controls in the face of increasing enforcement and risk liability, then reach out to us directly at 866.222.3370 or visit us at eClarifire.com.
Let us show you how to future-proof your organization with CLARIFIRE®.
Read these blogs and articles next

Jane has applied her vast experience (over 25 years) operating process-driven businesses to successfully redefine client-focused service. Jane has worked with expert programmers to apply cutting-edge web-based technology to automate complex processes in industries such as Financial Services, Healthcare and enterprise workflow. Her vision confirms Clarifire's trajectory as a successful, scaling, Software-as-a-Service (SaaS) provider. A University of South Florida graduate, Jane has received many awards related to her entrepreneurial skills.
Like this article? Feel free to share this with a friend or colleague!