As part of their continuous efforts for healthcare facilities to achieve zero harm, the Joint Commission conducts an on-site accreditation survey at least every 39 months. The survey's purpose is to evaluate and measure organizational compliance with standards of patient safety and quality of care. Because deficiencies found by surveyors are placed on a performance improvement plan, the best strategy is to be proactive and reduce the number of infractions occurring by being well prepared. A common approach endorsed by the Joint Commission is for organizations to conduct ongoing mock surveys.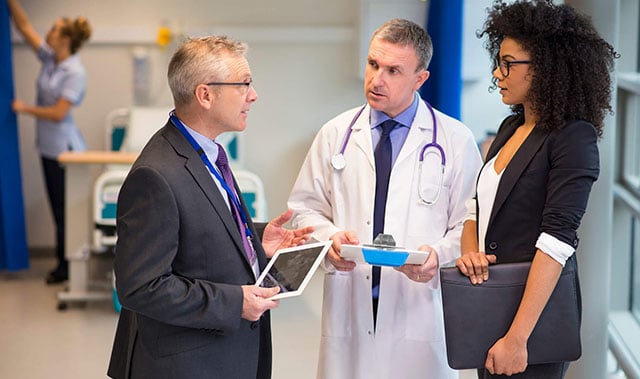 Why do it?
As the old saying goes, "Fail to Plan, Plan to Fail". The very nature of the unannounced survey visits can strike fear throughout even the most confident of healthcare teams. What's more, compliance with Joint Commission standards is not something that can be measured and improved upon overnight. Achieving success with Joint Commission surveys requires organizations to have a well-oiled machine in place. Support your staff with easy to follow, automated processes that reinforce their efforts and assist in keeping them prepared all year round. Surveyors follow a specific process to evaluate providers, so it is quite possible for providers to be ready and do well by following the same systematic methodology.

How is it done?
Organizations begin with constructing the scope of what they want included on the mock surveys. They identify key players to perform the surveys, determine how often to conduct them, and what areas to cover. In addition, the organization determines the workflow and cadence for executive communication and reporting that will take place to ensure governance and oversight. Once this is complete, the structured workflow process is developed, automated with technology, and followed by training for the chosen surveyors of each department. The organization is now ready to begin performing mock surveys.
What is on the mock survey?
The mock survey and related questions will vary based on the organization strengths and areas that need the most improvement. An average mock survey includes specific areas to audit, such as patient chart logs. Another important part of mock surveys includes the observation of verbal responses from staff for compliance-related questions. Organizations carry those observations further to include systematic compliance checks of their facility, medications and equipment, and personnel files. In essence, the mock surveys are finding any holes in adherence to remain compliant with the Joint Commission before the survey ever happens.
With automated mock surveys, organizations have the visibility needed to analyze high-risk or system-level processes that require improvements. Organizations collect, track, and trend the data collected to identify and improve deficiencies. The bonus to using mock surveys is the organization is proactively finding deficiencies and correcting them. This benefits more than just the survey – this means you've improved quality and safety in your hospital, resulting in higher reimbursements and happier patients.
Need help?
Keeping on top of Joint Commission regulations and compliance necessitates that healthcare organizations utilize innovative technology that supports and empowers their efforts toward betterment. Simply automating a process that is ineffective is…well, worse than no automation at all. Instead, talk to experts that can help ensure what you automate will provide you with the results you need. At Clarifire, we provide our clients with more than just innovative technology to improve their processes and workflow. We tailor the technology based on client need and support the technology with best in class service excellence. Contact us to find out more or click below to request a demo.
If you liked this blog, read these next!
Tammy Bourassa
Tammy came to Clarifire with two decades of experience as a forward-thinking national business development leader. She began her healthcare career working for large, outpatient healthcare providers. She later transitioned her skills to work with technology organizations so that she could add value and innovation. Her process-oriented expertise and experiences enable her to navigate large healthcare system needs with a thoughtful, consultative approach. Tammy has successfully led account management, sales, and implementation teams through technology integrations to elevate quality for clients. She enjoys creating long-standing business relationships while continuously improving the strategic execution of each clients' goals.
When she's not at work, Tammy loves traveling, hiking, reading, and tasting good wine.
Like this article? Feel free to share these tips with a friend or colleague!