When was the last time you reviewed your borrower communication practices? As technology options continue to expand, so follows oversight. The Telephone Consumer Protection Act (TCPA) of 1991, created to address increasing telemarketing practices and their impact on consumers, has grown and continues to evolve on the heels of innovation. Make sure you're starting the new year with real-time engagement and compliant communication with borrowers.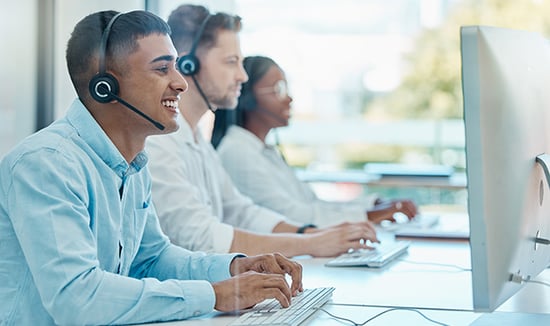 In late November, the Federal Communications Commission (FCC) issued a new ruling on ringless voicemail technology. This is where a data call is made to a wireless phone versus a voice call, and messages are automatically left for the call recipient. The ruling is in response to an earlier petition for exemption from TCPA purview. The FCC denied this request, as well as a request for retroactive waiver of TCPA rules. The petitioner, All About the Message, LLC (AATM), claimed that a ringless voicemail, leaving a prerecorded voicemail message sent directly to the corresponding text server, did not constitute a "call" and was therefore not subject to TCPA. Text messaging is considered a call under TCPA, including internet-to-phone text messages. In these scenarios, written consent must be secured from your borrowers prior to initiating communication.
Do you have your finger on the pulse of borrower communications, timing, consent and frequency of touchpoints, modes of communication, and scripting adherence? Of course, your operations team is familiar with TCPA requirements, but staying up to speed on rapidly changing regulations and innovation can be tricky. With margins shrinking yet again, mortgage servicers need flexible, game-changing technology that keeps them both competitive and compliant.
Promote Oversight and Course Correction
Visibility coupled with automation facilitating oversight and course correction is imperative in today's rapidly evolving environment. Clarifire understands these needs, the nuances that ongoing change creates, and the value of meaningful innovation. Delivering a modern approach to automated workflow, CLARIFIRE® supplies mortgage servicers with business process optimization that pushes on all fronts, embracing and operationalizing the power of workflow automation to implement proven applications that your organization can depend on, including proven industry features :
CLARIFIRE CONTACT®
CLARIFIRE CONTACT ensures your ability to confidently communicate with borrowers with all history at your fingertips. Utilizing smart, automated workflow to collect information and generate auditable, responsive activities. This includes agent prompts and guided questions that facilitate borrower communication based on various personalized scenarios. The one view of all processes, history, and notes enables easy disclosure generation and sign-off. Document management, payment collection, and terms for future payments, complete with robust dialer integration, are all easy to drive rapid results.
CLARIFIRE COMMUNITY®
CLARIFIRE COMMUNITY is a shared environment where your borrowers can self-serve 24/7 from any device. A proven feature of the workflow automation of CLARIFIRE, borrowers can share documents, receive and reply to communications, access products, and dynamically interact with your team, as well as other mortgage partners and vendors, improving access and engagement.
Facilitate Modern Communication Options
Make a commitment for 2023 to proactively innovate your organization's digital preparedness with CLARIFIRE. Add the flexibility, transparency, and automation needed to stay abreast of change, whether it's regulatory-based, investor-driven, or ensuring borrower engagement. Manage operational constraints that impact your productivity and profitability by implementing proven, scalable, modern process automation delivered through CLARIFIRE's progressive application offering. Tapping more than a decade of innovation leading the servicing industry, CLARIFIRE is designed to efficiently handle the volumes, velocity, and complexities of servicing. Discover more about Clarifire's expansive offering, facilitating modern borrower communication options in a rapid-delivery SaaS application, by visiting eClarifire.com or contacting us directly at 866.222.3370. CLARIFIRE, delivering a better approach, better results, and BRIGHTER AUTOMATION®.
Read these blogs and articles next

Jane has applied her vast experience (over 25 years) operating process-driven businesses to successfully redefine client-focused service. Jane has worked with expert programmers to apply cutting-edge web-based technology to automate complex processes in industries such as Financial Services, Healthcare and enterprise workflow. Her vision confirms Clarifire's trajectory as a successful, scaling, Software-as-a-Service (SaaS) provider. A University of South Florida graduate, Jane has received many awards related to her entrepreneurial skills.
Like this article? Feel free to share this with a friend or colleague!