The 2019 hurricane season is already off to a troubling start with Hurricane Dorian having caused an estimated $1.5 billion to $3 billion in insurance losses across the Caribbean. Even tropical storm Barry is estimated to have caused as much as $600 million in damage in the Southeast, including Alabama, Florida, and Mississippi. Last month, the National Oceanic and Atmosphere Administration (NOAA) updated its predictions for the current hurricane season, increasing expectations for an "above-normal" season.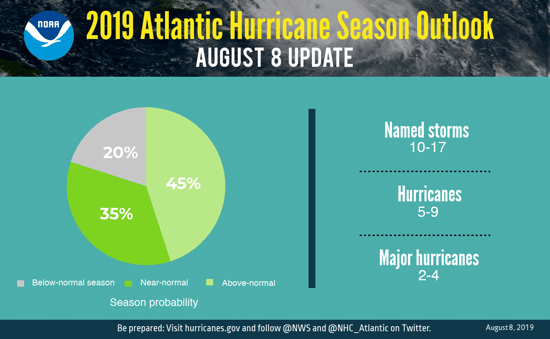 Keeping NOAA's predictions in mind, now is the time for mortgage servicers to prepare for an increase in disaster relief loss mitigation as the typically active part of hurricane season approaches. With foreclosure moratoriums and extended loss mitigation timelines, mortgage servicers will be dealing with the effects of these hurricanes well into 2020.
NOAA's Predictions
NOAA's Climate Prediction Center projects a 45% change in favor of hurricane activity registering as "above-normal," and only a 20% change indicating it may be "below-normal." According to the latest forecasts, mortgage servicers can expect as many as 17 storms this hurricane season, with five to nine hurricanes, and two to four major hurricanes bringing wind gusts of 111 mph or higher.
The end of El Nino played a part in NOAA's decision to revise its original "near-normal" predictions, released in May. "El Nino typically suppresses Atlantic hurricane activity but now that it's gone, we could see a busier season ahead," said Gerry Bell, NOAA lead seasonal hurricane forecaster.
Challenges of Disaster Relief
Even a normal hurricane season brings unexpected and onerous challenges for mortgage servicers. From Fannie Mae and Freddie Mac to the Federal Housing Administration (FHA), Department of Veterans Affairs (VA) and the United States Department of Agriculture (USDA), investors and regulators expect mortgage servicers to be ready to support distressed homeowners through the disaster recovery process.
From delayed payments to property rehabilitation and disaster modifications, mortgage servicers must manage a detailed workflow of timelines and requirements that need to align a myriad of investor programs and guidelines, as well as satisfy applicable regulation. Ensuring your disaster relief loss mitigation team is ready for this year's hurricane season and ready for all types of disasters, could prove to be even more challenging in 2019. In addition to above-normal predictions, many servicers have reduced loss mitigation resources in response to declining foreclosure rates. This could make for an even riskier season and necessitates pursuing sophisticated workflow to ensure readiness.
Ease the Impact on Your Operations
Don't let the complexity of the disaster relief landscape impact your operations. The CLARIFIRE® workflow application is specifically designed to support all investor programs, including required activities, timelines, and communications. With an advanced workout rules management component that includes customer self-service options and rapid disaster relief approvals, CLARIFIRE creates efficiencies and drives down costs, leveraging existing resources to help servicers effectively assist homeowners in time of duress. After all, the ultimate customer service is being ready when your customer needs you!
Prepare your team for automated disaster relief triage and execution with CLARIFIRE. Visit eClarifire.com today or contact us directly at 866-222-3370 to learn more.
Let us show you how to future-proof your organization with CLARIFIRE.
If you liked this blog, read these next:

Jane has applied her vast experience (over 25 years) operating process-driven businesses to successfully redefine client-focused service. Jane has worked with expert programmers to apply cutting-edge web-based technology to automate complex processes in industries such as Financial Services, Healthcare and enterprise workflow. Her vision confirms Clarifire's trajectory as a successful, scaling, Software-as-a-Service (SaaS) provider. A University of South Florida graduate, Jane has received many awards related to her entrepreneurial skills.
Like this article? Feel free to share this with a friend or colleague!