"People will forget what you said, people will forget what you did, but people will never forget how you made them feel." – Maya Angelou
Let's pretend we're having a conversation, and you can see that I'm not giving you my full attention. Maybe I'm looking across the room, or I'm distracted by my cell phone or watch. I look up and say, "Go ahead and talk. I can listen while I do this."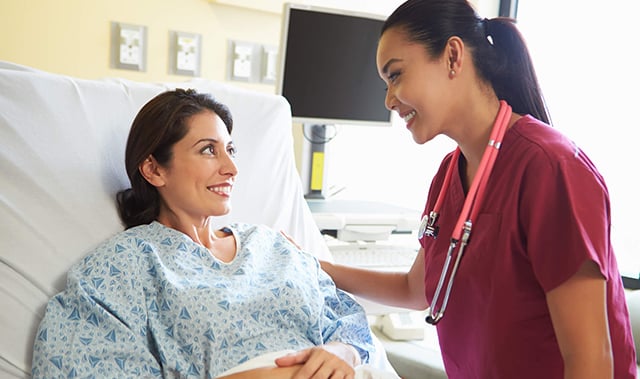 How would this interaction make you feel if you were the patient? If you're like most people, you would disengage and leave the conversation, feeling frustrated and annoyed. This is exactly how patients feel as nurse leaders and other caregivers rush in and out of their rooms.
The fact is nurses are extraordinarily busy. You're the patient's primary caregiver, and your goal is to get the patient WELL. The question is, how will you make them FEEL along the way?
Here's a couple of simple things to consider when rounding on patients to give them that warm fuzzy feeling.
1. Take a deep breath and ..... smile!
This sounds like a simple task, but when we get busy we tend to have a more serious look on our face. Entering the patient's room with a smile on your face will help you start off the conversation in a positive manner. Careful now; the side effects from smiling can be contagious!
2. Personalize your visit.
Look at the patient rounding history, related notes, and preferences before entering the room. Speaking to a patient by their preferred name, or mentioning any small personal detail can completely change your patient's perception of care. This will also help your patient open up and give you real and meaningful feedback on their experience.
3. Don't underestimate the power of Purposeful Rounding.
Also known as hourly or comfort rounding, this proactive approach improves the patient perception of care by meeting the most common patient needs before they ask., known as the 4 P's (Potty, Pain, Peripheral and Positioning).
Do you need help making the patient feel like the most important person in the room? CLARIFIRE Health® was designed by nurses, for nurses
Click here talk to one of our PE Experts now!
If you liked this blog, read these next!
Tammy Bourassa
Tammy Bourassa leads the business account management team at Clarifire. She came to Clarifire with over 15 years of experience in selling and supporting client software solutions within the healthcare industry. Her industry knowledge ranges from pre hospital/EMS care to inpatient and rehabilitation care. Tammy has successfully led various sales, account management and operational teams. When asked, she said she really enjoys growing business by building relationships. "It's so much fun to work with all the flavors of people and to help solve their issues."
Like this article? Feel free to share these tips with a friend or colleague!