It is hard to believe 2019 is over. The year rocketed by as we watched healthcare disruption manifest in numerous ways. We saw large-scale changes, such as CVS and Aetna team up, Uber expand their ridesharing in the healthcare industry, and Amazon join forces with J.P. Morgan and Berkshire Hathaway to slash healthcare prices for their 1.1 million employees. We also saw changes on a smaller scale that packed a punch. Take patient experience HCAHPS surveys for an example. Most know the impact of these surveys can be the difference between a financial loss or gain. Therefore, when Centers for Medicare and Medicaid Services (CMS) removed pain management questions from the HCHAPS survey in 2019, the industry took notice.
Providing a good patient experience as part of quality care is not new, and has always been important. The implementation of the HCAHPS survey only increased the importance and made it top-of-mind for healthcare leaders. CMS and the Agency for Healthcare Research and Quality (AHRQ) collaborated to develop the HCAHPS survey, implementing it in 2006. It was the first national survey to provide public data related to the patient's perspective of care while in the hospital. Sharing the data publically incentivizes hospitals to improve quality to compete with other hospitals, and provides consumers with side-by-side quality ratings to consider when choosing their provider. The standardized questions on the survey became an integral piece of the quality puzzle, with measures directly tied to Medicare reimbursements and heavy financial penalties for sub-par quality.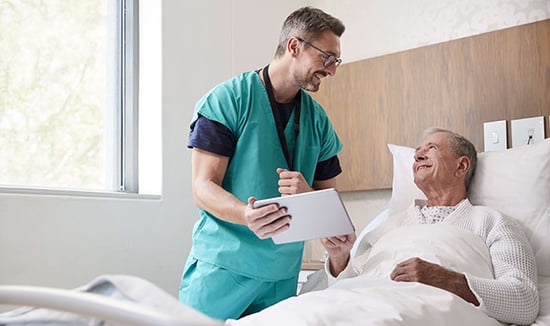 2019 Changes
Over the last few years, the survey received scrutiny from the medical community for what is said to be long, overdue changes needed to catch up with the reality of delivering healthcare today. One of the main sticking points was that the survey had not seen any significant updates in over a decade. This created an apparent issue as the opioid crisis began worsening across the United States. Many healthcare leaders pointed to the survey as exacerbating the opioid crisis because it included patient feedback and measures tied to pain management. At the same time, physicians were given mandates to lower the prescribing of opioids. It is believed that the HCAHPS surveys were incentivizing health systems to do otherwise, putting pressure on caregivers to keep their patients pain-free as part of quality ratings. Studies performed on the surveys showed patients on opioids rated their overall hospital experience higher than patients not using opioids, impacting revenue from Medicare reimbursements. This placed caregivers in a precarious position, leading to an outcry from major hospital groups. As a result, CMS removed the pain related questions in October 2019.
What to Expect Next
Beginning the fall of 2019, CMS started a multi-faceted initiative to review the survey content and design. First, they planned to speak with recent hospital patients to discuss their care experience and assessment of the survey in the current and proposed form. Next, they gathered feedback from healthcare stakeholders on potential changes. In addition, CMS is awaiting final approval from the Federal Office of Management and Budget to test an electronic version of the HCAHPS survey, something everyone agrees is a necessary change.
Major hospital groups such as the American Hospital Association and Federation of American hospitals have requested several changes that could have a big impact on patient care. In addition to providing an electronic/digital version, the top requests from the groups included:
Provide a shorter survey.

Modify questions to ensure cultural competency for non-English speaking patients.

Include key care transitions and post-discharge experience.

Include a plan of care that addresses the emotional and physical sense of safety.

Provide an option for patients to give feedback in their own words.

Provide ongoing re-evaluation of the survey, every couple of years.
It is not clear how long it will take before CMS has considered all evidence presented to make its decision on proposed changes. Nor can we predict how long thereafter before new mandates become effective. What is clear; however, is the importance of patient experience is not changing and will remain embedded as part of quality care measures and Medicare reimbursements. With that, hospitals with a patient-centric culture using nimble technology have the best chance to improve patient experience today.
Consider This
Keeping up with the times also means providing caregivers with tools that will optimize their time while improving patient experience. Yes, it is possible! Are you still trying to improve patient experience with paper and clipboard? Ever wonder if the technology you use is the best available? CLARIFIRE HEALTH® has innovative workflow technology with an easy to use application that automates and improves processes that affect patient experience and quality of care. Find out how HERE.
If you liked this blog, read these next!
Tammy Bourassa
Tammy came to Clarifire with two decades of experience as a forward-thinking national business development leader. She began her healthcare career working for large, outpatient healthcare providers. She later transitioned her skills to work with technology organizations so that she could add value and innovation. Her process-oriented expertise and experiences enable her to navigate large healthcare system needs with a thoughtful, consultative approach. Tammy has successfully led account management, sales, and implementation teams through technology integrations to elevate quality for clients. She enjoys creating long-standing business relationships while continuously improving the strategic execution of each clients' goals.

When she's not at work, Tammy loves traveling, hiking, reading, and tasting good wine.
Like this article? Feel free to share these tips with a friend or colleague!