Patients staying in long-term care facilities are of the most vulnerable population. Many residents are suffering from chronic illnesses, or have become patients following acute hospitalizations. In addition, long-term care (LTC) facilities often include a large geriatric population. Whatever category they fall under, many of these patients require skilled nursing. It is no wonder then that CMS has taken a hard stance to improve safety, quality care, and experience for these patients. Effective November 28, 2019, a 2016 Final Rule from CMS mandates all LTC facilities operate a compliance and ethics program, including eight major components that cover new regulatory requirements.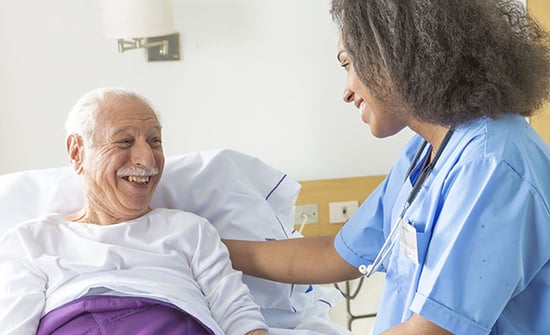 Apart from the new mandates, the Administrator for CMS, Seema Verma, vowed in 2019 that CMS would strengthen their oversight and enforcement of compliance while increasing transparency. The agency has a five-part approach to ensuring high-quality care for LTC facilities. The objective is clear: improve quality care and experience while keeping a balance of not over-burdening facilities with unnecessary paperwork. CMS' focus also includes a major shift to value-based care reimbursements.
With tougher compliance and transparency on the horizon, coupled with safety and quality-related adherence tied to value-based care, there will no doubt be negative impacts on costs for LTC organizations that are unprepared. Surprisingly, some long-term care facilities attempt to handle processes related to quality, safety, and experience on paper. Yikes!
More often than not, organizations do use technology but have numerous, disparate systems that do not interact or share relevant data. Many of the applications cannot integrate with EMR or LDAP systems. Lack of critical operational visibility counteracts the CMS demand for transparency. This means that the executives and care teams have little to no oversight on quality & safety processes. It also means caregivers are missing the big picture for patients, lacking vital information needed to make evidence-based decisions that greatly affect outcomes.
The Agency for Healthcare Research and Quality (AHRQ) guides organizations with numerous recommendations on their website. We are sharing a few of those recommendations, along with process automation ideas, to accomplish the best management and oversight workflows related to organizational safety & experience goals.
1. Be Person-Centric
Person-Centric means everyone, not just patients. Creating a person-centric culture begins with meaningful communication that is gathered and trended for ongoing improvements.
Mountains of evidence shows the best solution to promote meaningful communication is rounding! Specifically, Patient Rounding for HCAHPS experience and Leadership Rounding for staff engagement and retention programs. The bottom line? Studies show that improving staff engagement with Leadership Rounding constructs an immediate improvement in patient experience.
2. Foster a Safety Culture
Fostering safety for staff and patients alike begins with analyzing current safety practices to identify opportunities for improvement. Maintaining a safety culture is accomplished by obtaining - and providing - continuous feedback with frontline staff.
Once again, the perfect tool for continuous feedback between frontline staff and executives is Leadership Rounding. Additional help to foster a safety culture includes hourly or "purposeful" rounding, Fall Prevention Programs, and safety-related audits. All forge a positive impact on patient safety and experience when automated with advanced technology that gathers the big picture view of patients, facilities, operational risks, outcomes, and culture.
3. Improve Compliance Management for HAC Procedures
Organizations can improve compliance for simple things such as hand hygiene, producing a significant difference in reducing HACs. Reducing HACs is easily achieved by incorporating infection control audits that are tracked and measured to foster continual compliance improvement. Busy healthcare executives need help from innovative technology to do the heavy lifting for compliance oversight. A CLARIFIRE HEALTH® case study correlated a 70% increase in compliance within the first month of using CLARIFIRE HEALTH.
4. Ensure Quality Hand Offs
LTC Organizations must work diligently to ensure first-rate handoffs between the hospital and their team to ensure patient-centric, quality care, and experience. Better workflow and automation of handoffs improves collaboration, efficiencies, and results, at the time of care transition. Check out our blog on Care Coordination for tips and find out how to do this!
SOLUTION: Choose a Partner with Expertise and Leading Technology
In the digital age of healthcare, LTC organizations need more than a one-and-done point-solution to solve one problem. They need a tool that is innovative enough to solve a variety of challenges in varied departments, for nationally located facilities.
It takes a lot more than just automating processes to make significant changes. Consider collaborating with Clarifire, a leading process improvement partner. Our process automation experts work with healthcare organizations to improve and streamline healthcare best practices. We offer agile, cutting-edge workflow technology, with the ability to tailor to the organizational needs. Our mobile, easy-to-use application offers unlimited types of rounds or audits, along with clinical pathway automation using evidence-based protocols. Standardizing these processes across the entire healthcare organization eliminates unnecessary variations in care, improves safety, experience, and quality outcomes. Cohesive, aggregated views organization-wide align with the CMS Final Rule adherence.
Since interconnected, dynamic, real-time data powers the CLARIFIRE HEALTH® solution, the interactions are seamless and reportable. Caregivers love our mobile application because it is easy to use, streamlines their work, and does not interfere with patient interactions. It improves them! How great is that?
Executives love CLARIFIRE HEALTH because they have at-a-glance daily oversight of dashboards with visibility of real-time compliance, recovery, and fall-out areas. This continues to drive higher compliance and improved quality. Another bonus, CLARIFIRE HEALTH workflow provides organizations with a comprehensive audit trail to meet CMS compliance and oversight of quality care procedures. The icing on the cake for executives is they have the benefit of trends and improvements related to safety and quality care, something to market to local hospitals. With many LTC organizations to choose from, promoting quality data to hospitals is the differentiator to set your organization apart from others.
Want more? Contact us HERE to request additional information or a demo.
If you liked this blog, read these next!
Tammy Bourassa
Tammy came to Clarifire with two decades of experience as a forward-thinking national business development leader. She began her healthcare career working for large, outpatient healthcare providers. She later transitioned her skills to work with technology organizations so that she could add value and innovation. Her process-oriented expertise and experiences enable her to navigate large healthcare system needs with a thoughtful, consultative approach. Tammy has successfully led account management, sales, and implementation teams through technology integrations to elevate quality for clients. She enjoys creating long-standing business relationships while continuously improving the strategic execution of each clients' goals.

When she's not at work, Tammy loves traveling, hiking, reading, and tasting good wine.
Like this article? Feel free to share these tips with a friend or colleague!