COVID-19 has disrupted the lives of many, but none more so than the healthcare workers on the front lines providing patient care to those battling the virus. The Coronavirus Pandemic remains an incredibly fluid and demanding situation with ever-changing guidelines and increased safety measures. Healthcare workers have their hands full with the virus and its unpredictable effect on each patient. Add in abrupt changes in procedures, staffing scarcity, and supply deficiencies, and it becomes an exhausting environment for all involved.
With an enormous risk of exposure to COVID-19, healthcare workers are pivotal to our fight against this virus. Each day they face the risk and work under tremendous amounts of pressure, in understaffed conditions, while working around the clock to provide the specialized care needed for these very sick patients. In addition, they are often required to take on the role of both caregiver and family surrogate, since loved ones can't be there for support.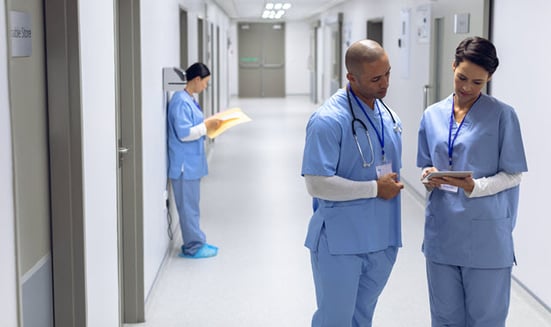 The culmination of these variables is creating mid- and post-crisis burnout at unprecedented levels leading to very costly turnover for healthcare organizations. Illustrating healthcare worker cost, the 2020 NSI National Healthcare retention & RN Staffing Report shows the average cost of turnover for just one RN is $44,375. (1) With rapid turnover, the amount for healthcare organizations could be astronomical.
What Leaders Can Do?
Gallup's recent study showed that nurses working on COVID-19 patients need more leadership support than ever before. Severe concerns were raised in areas, such as:
78% of healthcare workers

feel that COVID-19 will have a somewhat unfavorable or very adverse effect on their workplace. (2)

47% of healthcare workers

strongly agree that their employer has communicated a clear plan of action for COVID-19.(2)

36% of healthcare workers

strongly agree they are confident they will be safe if they follow their organization's health policies. (2)
The Gallup study demonstrates a high need for improved communication from leaders, including addressing safety concerns and other impacts on healthcare workers as a result of COVID-19. During the pandemic, the staff needs to know the organization and its leaders have their back. Simultaneously, organizational leaders must identify engaged and disengaged employees while continually seeking ways to improve their work experience. Executives should begin by placing a focus on healthcare worker communication that creates meaningful conversations and demonstrates leaders are listening and responsive. The key to uncovering issues or barriers to care begins with keeping healthcare workers informed to establish and maintain engagement and team camaraderie.
A simple but powerful solution that leaders rely on to drive the sort of communication that improves staff engagement is Leadership Rounding or also known as Staff Engagement. As an industry standard for years, modern technology has improved the process with workflow automation. The CLARIFIRE HEALTH® Leadership Rounding application supports leaders' efforts to communicate with their team as a whole while illustrating they care and are responding to team member's individual needs and concerns. The CLARIFIRE HEALTH application empowers executives with the flexibility to easily collect critical observations and input from staff and put it into immediate action.
Benefits of CLARIFIRE HEALTH
The CLARIFIRE HEALTH Leadership Rounding mobile application delivers transparent and innovative communication centered on employee feedback with any barriers, or perceived barriers, to care.
An easy-to-use interface drives adoption by leveraging innovation such as taps, swipes, shortcuts, and talk-to-text.

Application configuration includes question sets based on what is happening today. During the pandemic, executives can target questions specific to COVID-19 to uncover up-to-date concerns or barriers.

Organizations and Leaders benefit from at-a-glance visibility of trends with real-time, configurable dashboards and detailed reports that drive completion accountability and identify fallout areas.

Leaders use the input received from staff to respond to real-time alerts and action plans for the long term.

Organizations create and sustain employee engagement with recognition and kudos programs for staff in parallel to coaching and training for improvement opportunities.
Why Clarifire?
CLARIFIRE HEALTH replaces outdated manual processes for Leadership Rounding with workflow automation, but it doesn't stop there. In one user-friendly application, our workflow automation provides process improvement across departments for multiple quality-improvement and patient-related solutions.
References:
If you liked this blog, read these next!
Lauren Walling
Lauren Walling is a graduate of Emory University with a degree in Industrial Psychology, as well as an MBA from the John Sykes School of Business from The University of Tampa. She is a member of the Healthcare Business Women's Association, National Association of Professional Women, and the Morton Plant Corporate Membership and Planters Society. Lauren works with large Healthcare Systems implementing Patient Experience and Outcome Solutions that streamline processes, increase patient experience and improve quality and safety.
Like this article? Feel free to share these tips with a friend or colleague!