Healthcare systems have been in crisis mode for most of 2020, impacted by the pandemic and decidedly distracted with challenges related to PPE, supply chain issues, and staffing. While many struggled managing the impact, other organizations thrived. How were they able to do that?
Clarifire recently sponsored and attended the National Association for Healthcare Quality (NAHQ) NEXT 2020 conference. Like most events during a national pandemic, it was conducted virtually. It was an excellent event packed with industry leaders sharing valuable learning opportunities and access to amazing success stories for healthcare systems during 2020. One such success story was presented by BayCare Health System, a leading not-for-profit health care system with 15 hospitals throughout the Tampa Bay and West Central Florida.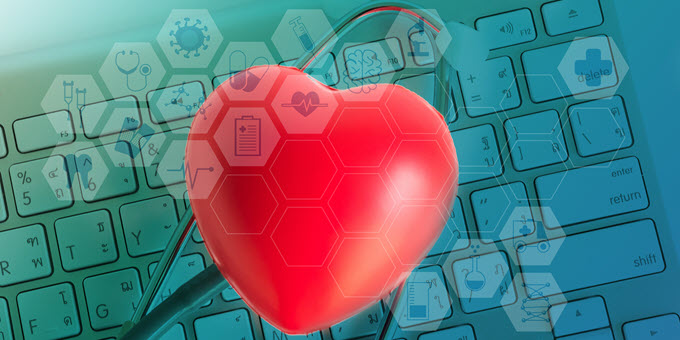 Manager of Clinical Integration, Lana L. Palmquist, MS Ed., RN, BSN, CPHQ, CVAHP, described their success story in a presentation aptly titled, "Designing Clinical Pathways to Improve Quality, Decrease Cost and Reduce Variation." Lana's presentation centered on how both before and during the pandemic, BayCare employed vital, automated clinical pathways using the CLARIFIRE® workflow application, resulting in dramatic improvements. The pathway automation developed allowed BayCare to focus on quality care delivery in high-volume disease states with challenging clinical pathways.
Clinical Pathway Automation
Baycare defines clinical pathways as "multidisciplinary care plans that are more prescriptive than clinical practice guidelines and provide specific guidance on the sequencing of care steps with a timeline for interventions."1 With that in mind, implementing the pathways workflow automation for Baycare included goals to:
Provide evidence-based, standardized care for clinical conditions

Define provider responsibilities for specific patient pathways to improve communication

Outline ESSENTIAL care that leads to optimal outcomes
BayCare began targeting key disease states that were high in volume and presented with any unwarranted variation in care. For this reason, Congestive Heart Failure was one of the pathways they began to implement.
For the NAHQ presentation, BayCare presented remarkable proven improvements resulting from the standardization and automation of Clinical Pathways for Congestive Heart Failure (CHF) patients. Since CHF Clinical Pathway results factor in the cost of care in treatment decision-making, the improvements in care also resulted in cost savings.
Why CLARIFIRE?
BayCare needed technology that would allow them to standardize and automate the clinical processes. They were specifically looking for innovative workflow, and CLARIFIRE was the technology they chose to fill the need. Clarifire was proud to collaborate with Baycare to deliver CLARIFIRE technology to define each pathway. The processes and actions are easily visible and allow their team to collect and store the data they need to promote pathway adherence.
BayCare empowered its Clinical Navigators to monitor the patient's progress throughout the acute phase and provide updates to the care delivery team. Real-time integration with the EMR coupled with data entered by the navigator is what made it all possible. The information was consolidated in a dashboard for the navigator to review, They began with tracking potential CHF patients by identifying those with Brain Natriuretic Peptide (BNP) under 400. Labs and vitals, including the five readmission risk factors, were reviewed and updated twice daily.
To help drive adherence, BayCare began presenting the evidence-based results in CLARIFIRE dashboards and reports. The data's visibility engaged providers and increased their confidence that the standardized process delivered improved patient outcomes.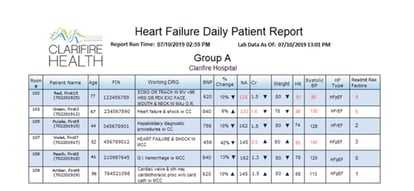 Evidence-Based Results
BayCare results surpassed expectations! CLARIFIRE allowed their team to identify discharge risk factors and hold physicians accountable for CHF patients that were released with three or more risk factors. Throughout the use of the clinical pathways, Baycare managed to decrease their discharges by 30% for those with three or fewer risk factors. In addition, they saw overall pathway success with:
59% improvement in patients discharged with decreased discharge weight

64% improvement in patients discharged with a BNP <50% of arrival BNP

17% reduction in readmission O/E (observed over expected)
What's more, these kinds of results are not unique to CHF, but other pathways such as TJA see similar outcomes. If you are interested in obtaining that presentation or wanting to hear more about implementing clinical pathways within your healthcare organization, contact us today for more information.
References:
1 - Palmquist, Lana L. Designing Clinical Pathways to Improve Quality, Decrease Cost and Reduce Variation. Oral presentation at: NAHQ NEXT 2020, September 2020
If you liked this blog, read this next:
Lauren Walling
Lauren Walling is a graduate of Emory University with a degree in Industrial Psychology, as well as an MBA from the John Sykes School of Business from The University of Tampa. She is a member of the Healthcare Business Women's Association, National Association of Professional Women, and the Morton Plant Corporate Membership and Planters Society. Lauren works with large Healthcare Systems implementing Patient Experience and Outcome Solutions that streamline processes, increase patient experience and improve quality and safety.
Like this article? Feel free to share these tips with a friend or colleague!