In previous blogs, Clarifire has discussed how servicers can successfully manage natural disaster relief. This month, however, servicers are faced with responding to a different kind of disaster – the government shutdown. With roughly 800,000 impacted government employees, servicers play a key role in helping borrowers navigate the challenges resulting from temporary loss of income.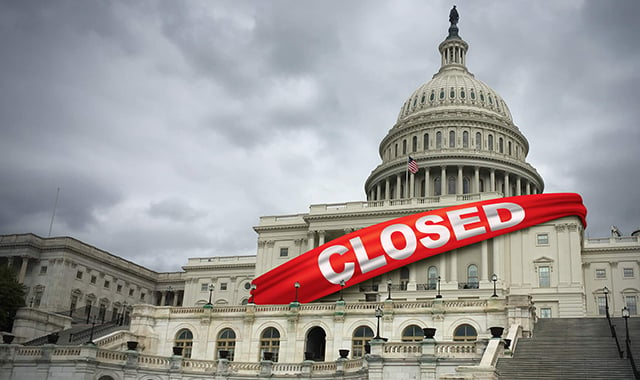 This week the shutdown passed the 30-day mark and thousands of households missed their second paycheck in a row. It is crucial that servicers stay abreast of guidance issued by federal agencies and the government-sponsored enterprises, which includes reviewing existing forbearance and other loss mitigation options that may help borrowers weather the storm. This could quickly become a complex matter for servicers and now is the time to understand the impact. Preparing to administer multiple agency updates necessitates flexibility in existing technology, together with the ability to manage related borrower communications and activities in sync with demand.
GSE Guidance
Fannie Mae and Freddie Mac were among the first to issue guidance to servicers assistance during the shutdown. Fannie Mae's announcement acknowledges, "The shutdown may impact a borrower's ability to make scheduled mortgage payments." Fannie Mae encourages servicers to offer forbearance plans to help borrowers avoid default. For borrowers that were already performing in a repayment plan or trial period plan when the shutdown occurred, Fannie Mae suggested, again, that a forbearance plan may be an appropriate remedy.
Freddie Mac's guidance followed suit, directing servicers to offer forbearance options. Freddie Mac also reminded servicers, "if a borrower enters into a forbearance agreement, the servicer must not accrue or collect late charges from the borrower during the term of the forbearance plan or any subsequent repayment plan period if the borrower is complying with the terms of such agreements."
As the shutdown continued into its third week, Fannie Mae and Freddie Mac issued updated guidance. The joint Lender Letter states, "With the shutdown extending for a longer period of time, we are concerned about the impact that continued income interruption may have on borrowers' ability to meet their mortgage payment and other monthly obligations." The letter establishes a minimum reserve requirement to serve as a "compensating factor to offset the risk associated with the interruption of income."
Fannie Mae and Freddie Mac likewise stipulated, "Additional flexibility is also now available with regard to the verbal verification of employment (VOE) and our paystub age requirements. These temporary requirements apply to borrowers impacted by the shutdown and will automatically expire when the federal government resumes full operations."
FHA Update
The Federal Housing Administration (FHA) addressed the effects of the shutdown with an industry letter in early January. FHA called on servicers to handle the situation with care, saying it "strongly encourages all approved mortgagees and lenders to waive late fees for affected borrowers and to suspend credit reporting on borrowers nationwide who have been affected by the shutdown."
FHA also reviewed its existing policies on borrowers experiencing loss of income. The letters states, "FHA expects mortgagees to assist borrowers experiencing a loss of income to the greatest extent possible by extending special forbearance plans to borrowers impacted by the shutdown, and fully evaluating borrowers for available loss mitigation options to avoid foreclosure whenever possible."
Servicing Role
Federal agencies and institutional investors recognize the critical role servicers can play to accommodate loss of income and when possible provide a soft landing for unexpected mortgage defaults. This puts more pressure on servicers and creates issues that won't go away the moment the shutdown ends. In addition to addressing default scenarios, servicers already face follow up on properties located in Special Flood Hazard Areas (SFHAs). They may also find themselves having to internally audit for varying forms of income or identity documentation in order to ensure loan quality and low defect rates are maintained.
Working through today's unique industry challenges, whether natural disaster, government shutdown, or other, demands a progressive and flexible approach to handling servicing operational processes. Ensuring readiness that stretches across your servicing organization, with the ability to integrate change and mitigate risk, is a necessity. Clarifire understands this and has been helping servicers address similar scenarios for over a decade. The CLARIFIRE® workflow platform, which includes sophisticated workout underwriting rules and integrated workout tools, is designed to handle complex loss mitigation and workflow issues, as well as help prepare for the unexpected. Clarifire is the partner of choice for servicers that understand the value of being cutting edge, nimble, compliant and customer centric. Visit eClarifire.com today, or contact us directly at 866.222.3370. We can help!
If you liked this blog, read these next:

Jane has applied her vast experience (over 25 years) operating process-driven businesses to successfully redefine client-focused service. Jane has worked with expert programmers to apply cutting-edge web-based technology to automate complex processes in industries such as Financial Services, Healthcare and enterprise workflow. Her vision confirms Clarifire's trajectory as a successful, scaling, Software-as-a-Service (SaaS) provider. A University of South Florida graduate, Jane has received many awards related to her entrepreneurial skills.
Like this article? Feel free to share this with a friend or colleague!