Our partners at Sapiens DECISION hosted a webinar on "How Decision Management Drives Transformation Projects," with insights into the financial crisis and how technology transformation was required post-crisis and will continue to be required across all industries to help avoid a repeat of 2008. The presenters included Kramer Reeves, VP of Product Marketing at Sapiens DECISION and Larry Goldberg, the evangelist for Sapiens DECISION.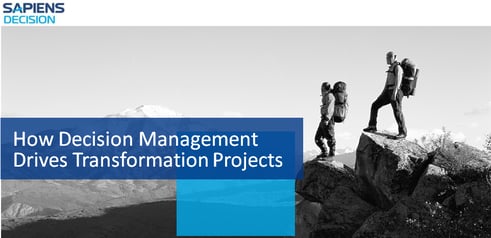 The agenda for the webinar touched on market drivers for transformation, such as compliance, the approach to transformation and an introduction to decision management. Key points were made regarding how some institutions, such as Freddie Mac, came out of the financial crisis understanding that greater accountability was required and that new systems will need to be implemented to facilitate change.
According to Forbes, "transformation requires end-to-end, systemic change in an organization." Decision management results in reusable decisions and logic. It is my recommendation to pair decision management with process automation and workflow, which will allow you to execute on those decisions and gets you closer to the goal of complete systematic change.
In my experience, innovation in all areas is what is required in order to transform your business. Decision management coupled with business process automation and an easy to use user-interface are the key innovative components required to execute on your new operating model.
According to Sapiens, the market drivers for transformation include (1) innovation, (2) compliance, (3) paradigm shifts, and (4) consumer demand. The key for organizations is to recognize these drivers and prepare for them through transformation.
At the forefront of the most recent trend toward transformation was the financial crisis of 2008. The global crisis happened because we missed all the signals and it could happen again if we don't react.
What is the approach to transformation?
What Sapiens has seen from their clients is that it takes leadership. In addition to the identification of market drivers, transformation requires a strong leadership team driving innovation through the coordination of these three key areas:
People

Process

Technology
Larry Goldberg added that, "It takes the galvanizing of these three areas to transform an organization."
Why decision management as a first step?
Decision Management has been embraced as a critical component in the transformation of systems. According to Gartner, "decision management improves the intelligence of business operations by enabling fast, consistent and precise fact-base decisions."
Kramer Reeves of Sapiens DECISION went on to present an introduction to Sapiens DECISION and how decision management bridges the gap between IT and the business. He pointed out that IT has done a fairly incredible job of building systems over the years, but the problem has been with the ability of the business to discover, define, manage and validate all of the regulations, then take those requirements and put them into a vehicle for IT to quickly implement.
In many companies, this is done through the arduous process of creating a Business Requirements Document (BRD) that IT is given and asked to translate into code. That translation is a daunting task. With decision management, the business creates the model and the logic that is then translated into code resulting in a low touch approach from IT. Additionally, Sapiens DECISION model has guard rails built in to ensure consistency. When the code is generated there are no gaps, the testing and validation are done and IT can deploy it.
Technologies that complement decision management.
Once your decisions are identified, modeled and developed, additional technologies can be added to complement your new system that aid in transformation. The complementing technologies I recommend include business rules, workflow platforms and predictive analytics models. A decision requires direction, something to tell it what to do and when.
Business rules guide the systems behavior (i.e. the decisions) allowing for repeatable, automated processes. Now the decisions are linked to the business rules and the business partners are able to go directly to the rule(s) that execute a specific decision, make a change and send it through. Connect to a user-friendly workflow platform and you have a fully integrated business process management system that can transform the way you do business quickly.

How does the future of decision management look?
Decision management is not isolated to the housing market. The rate at which it is spreading across banking is a phenomenon. There are very few parts of banking that we don't see some type of decision management. Insurance is another industry that has adopted transformation and is using decision management alongside process automation to process customer needs faster. Larry Goldberg indicated that scalability is not an issue for decision management, just maturity and adoption. Decision management is doing extremely well.
What are the key takeaways?
Change happens, there are many market drivers to transformation so recognize them and react.

The coordination of people, process and technology is required from strong leadership and a strong culture to support change.

Decision management is a critical technology driving transformation.
The webinar closed with a brief Q&A segment. Presentation details and a new Sapiens DECISION whitepaper on "Adapting to Transformation Change – How Decision Management Eases the Pressure of Seismic Shifts in Many Industries" are set to be distributed to attendees.
Based on my research and experience, the need for innovation to assist in meeting customer needs while promptly reacting to regulatory change will continue to grow. Transformation through the implementation of decision management and process automation is the solution.


CEO and Founder
Jane has applied her vast experience (over 25 years) operating process-driven businesses to successfully redefine client-focused service. Jane has worked with expert programmers to apply cutting-edge web-based technology to automate complex processes in industries such as Financial Services, Healthcare and enterprise workflow. Her vision confirms Clarifire's trajectory as a successful, scaling, Software-as-a-Service (SaaS) provider. A University of South Florida graduate, Jane has received many awards related to her entrepreneurial skills.