In May, we shared with you a sneak peek of what to expect at this year's Ginnie Mae Summit. With promises of an "in-depth, top-to-bottom perspective on Ginnie Mae's business," it certainly did not disappoint. If you missed this exciting industry event, we've got you covered. From government lending policy changes to Ginnie 2020, here's what you need to know.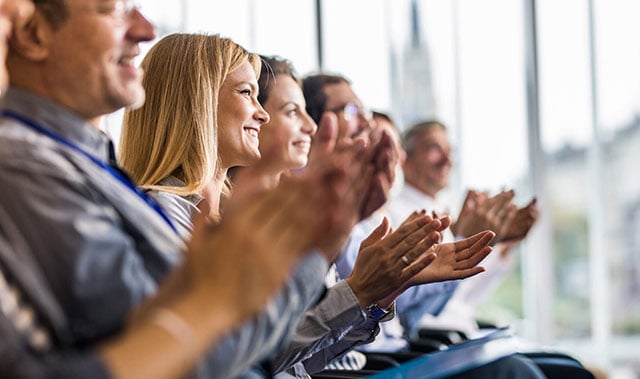 Expect Big Changes in 2020
In conjunction with the summit, Ginnie Mae published an update on its Ginnie 2020 plan. The update details the agency's progress towards the roadmap for innovative change, originally introduced in late 2017. The agency's various technology initiatives were discussed at length, including modifications to the MyGinnieMae portal and the Digital Collateral strategy. Ginnie Mae Acting President Maren Kasper said, "Ginnie Mae continues to demonstrate its capacity to effectively operate and maintain a state-of-the-art technology platform and counterparty risk framework, keeping pace with innovation and evolution in the mortgage finance system."
Counterparty Risk Remains a Top Priority
It's no secret that housing regulators are increasingly concerned about the risks unique to non-banks and non-bank servicers. During the summit, Federal Housing Finance Agency (FHFA) Director Mark Calabria called the changing makeup of lenders and servicers "one of the most significant developments since the financial crisis."
Calabria explained that the footprint of non-banks in originations of government-guaranteed mortgages doubled from 30% in 2013 to 60% in 2019, making non-banks Ginnie Mae's primary counterparties. "Non-banks have brought capacity to both originate and service mortgages, providing the liquidity that the market needs," said Calabria. "But from a risk perspective there are some key differences between banks and non-banks that we need to address in a responsible way."
In addition to FHFA, representatives from the Department of Housing and Urban Development (HUD) and Ginnie Mae said they were focused on reimagining counterparty risk management in light of market changes.
Government Agencies are Collaborating
Remarks from the summit suggest several housing leaders are looking at how to collaborate with other stakeholders to inform and direct their forward-looking efforts. Calabria said, "Rapid advances in technology and data analytics give us a great opportunity to collaborate and share best practices to accomplish that goal." Calabria also thanked Ginnie Mae directly for reaching out to FHFA to forge a collaborative partnership.
HUD Secretary Ben Carson reiterated a similar sentiment, noting that Ginnie Mae has worked to connect with individuals across the mortgage landscape. During his remarks, Carson said Ginnie Mae's "A-B-C's" stood for "Always be collaborating." He said, "As I hope these efforts in creating the digital mortgage ecosystem reveal, Ginnie Mae makes a habit of constant outreach to stakeholders, investors, issuers, and the American people who depend on our work so they can buy or refinance homes – as they pursue their own versions of the American Dream."
The collaboration among government entities in today's regulatory environment could result in a much more coordinated approach to mortgage policy and oversight – to the benefit of lenders and servicers who must keep track of regulatory initiatives and requirements that often overlap one another.
Housing Finance Reform Discussions Continue
No mortgage industry conference this year would be complete without a discussion on housing finance reform. Although the topic wasn't the feature of any particular session or panel, it did come up several times. Secretary Carson said Ginnie Mae's "world-class technology platform" and "global brand" make the agency "an asset in potential housing finance reform efforts."
Calabria spoke more generally, saying, "Mortgage finance reform has been called 'the great unfinished business' of the financial crisis." He said, "The time has come to finally finish it."
The message from this year's summit continues to exemplify Ginnie Mae's focus on industry collaboration and innovative change, from risk management to system modernization. This shows a marked shift in focus as government agencies have lagged on the technology front, as other initiatives have taken precedence in securing sought after funding until now. Lenders and servicers, bank and non-bank, along with third party service providers all should prepare to follow suit. A clear perspective of the opportunities and challenges associated with agency-directed change will help industry participants prepare for this evolution.
Workflow for Innovative Change
Attaining success can be simplified and significantly enhanced with automated workflow. Clarifire has extensive industry expertise in this area and has designed their workflow application CLARIFIRE® to deliver continuous improvement capabilities that streamline transitions to modernized agency interactions. Additionally, the CLARIFIRE application offers production-ready features that can be leveraged to facilitate your business' ability to navigate the exciting changes on the horizon. Whether you're managing system modernization, risk, or the customer experience, Clarifire is knowledgeable in implementing robust workflow automation that connects processes and parties in a collaborative online business ecosystem. Prepare for tomorrow by visiting eClarifire.com today, or contact us directly at 866.222.3370.
Let us show you how to future-proof your organization with CLARIFIRE.
If you liked this blog, read these next:

Jane has applied her vast experience (over 25 years) operating process-driven businesses to successfully redefine client-focused service. Jane has worked with expert programmers to apply cutting-edge web-based technology to automate complex processes in industries such as Financial Services, Healthcare and enterprise workflow. Her vision confirms Clarifire's trajectory as a successful, scaling, Software-as-a-Service (SaaS) provider. A University of South Florida graduate, Jane has received many awards related to her entrepreneurial skills.
Like this article? Feel free to share this with a friend or colleague!