With nearly a dozen different disaster relief specific programs and constantly changing foreclosure moratoriums, mortgage servicers shouldn't need another reason to take disaster preparedness seriously. If you're still trying to catch up to the pack in deploying technology-enabled workflow and workout solutions to manage the varied rules and requirements tied to disaster relief, Ginnie Mae is making a case for proactively tackling the effects of natural disasters that you can leverage.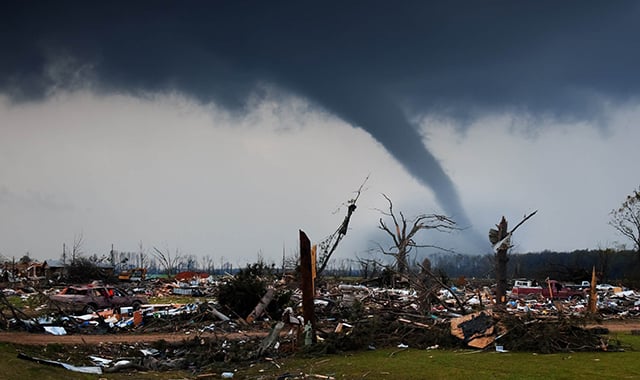 Disaster Response and Relief Dashboard
Ginnie Mae recently announced a new approach to managing the impact of natural disasters in real time. The newly developed Disaster Response and Relief Dashboard allows stakeholders to evaluate potential losses and risk exposure associated with individual natural disasters, specific regions and even unique mortgage programs, including FHA, VA and the Rural Housing Service (RHS).
Using modeling data and lenders' financial data, Ginnie Mae can project potential delinquencies and lender financial stress to make more effective and informed decisions related to disaster relief. Ginnie Mae said, "the Disaster Response and Relief Dashboard allows Ginnie Mae to get ahead of the curve, assess potential loss exposure and understand the magnitude of disasters' impact on first-time home buyers, low-income borrowers and veterans."
Why it Was Created?
The dashboard was born out of the unprecedented 2017 hurricane season. The record-breaking year resulted in $268 billion in economic losses. In an effort to protect the stability of the mortgage-backed securities (MBS) program, Ginnie Mae optimized reporting and available data to create a suite of location analysis tools that can be leveraged throughout the disaster life cycle, including long-term impact. However, this does not include automated disaster-related workout options and the requisite workflow that goes along with it.
Ginnie Mae and other government entities, including Fannie Mae and Freddie Mac, have embraced innovative approaches to solve the mortgage industry's most pressing challenges. "By working to get ahead of future hurricanes and natural disasters, Ginnie Mae is ensuring its place as a leader in the mortgage market and empowering the business to maintain the supply of low-cost capital homeownership," Ginnie Mae said.
Servicing the ever-changing multiple investor programs tied to disasters has proven a challenge for even the most innovative servicers. Clarifire has covered the numerous investor approaches to disaster relief in their ongoing 'Clarifire Conversations' blog series, helping to keep industry participants aware of the obstacles, impact, and continued regulatory changes tied to borrowers facing default as a result of a natural disaster. Although a number of servicing shops may have made it through the past three years of record-breaking disaster events with Excel-based manual processes, most would attest that this is not a sound business practice.
Enhance the Power of the Dashboard
Clarifire, an experienced provider of automated workflow and workout options, understands how to evolve outdated approaches to risk and process management. We have a complete suite of investor programs targeted specifically to support loss mitigation and default scenarios, including disaster strategies. Whether you are juggling impacted borrower mobile communications, managing insurance remittance for property repair, or coordinating countless conflicting timelines, Clarifire has the solution.
Our sophisticated workflow and workout application CLARIFIRE® automates complex workout rules, renders eligibility in seconds, as well as offers an innovative customer contact management system. CLARIFIRE helps servicers dynamically coordinate interactions between homeowners, industry third parties, and investors with real time bi-directional workflows. The CLARIFIRE suite of features creates an advanced framework for automating your strategic approaches to process administration, change management, risk and cost containment.
The 2019 Ginnie Mae Summit is now less than two months away. Ensure your servicing team is prepared to leverage Ginnie Mae's dashboard, along with having a way to ingest the data and mitigate the risks of disaster relief with CLARIFIRE®. Contact us today to find out how your organization can ensure readiness to handle today's unparalleled disaster environment by visiting eClarifire.com or contact us directly at 727.507.3440.
Let us show you how to future-proof your organization with CLARIFIRE. Truly BRIGHTER AUTOMATION®.
If you liked this blog, read these next:

Jane has applied her vast experience (over 25 years) operating process-driven businesses to successfully redefine client-focused service. Jane has worked with expert programmers to apply cutting-edge web-based technology to automate complex processes in industries such as Financial Services, Healthcare and enterprise workflow. Her vision confirms Clarifire's trajectory as a successful, scaling, Software-as-a-Service (SaaS) provider. A University of South Florida graduate, Jane has received many awards related to her entrepreneurial skills.
Like this article? Feel free to share this with a friend or colleague!