Disaster risk exposure relative to homeowner's insurance has become a mounting concern for mortgage servicers as the number of natural disaster events remains high. Servicers need workable strategies to protect mortgage collateral as they face an increasing number of disaster events toppling the $1 billion mark. In this escalating disaster environment, mortgage servicers find themselves chasing insurance coverage options to help minimize their risk exposure.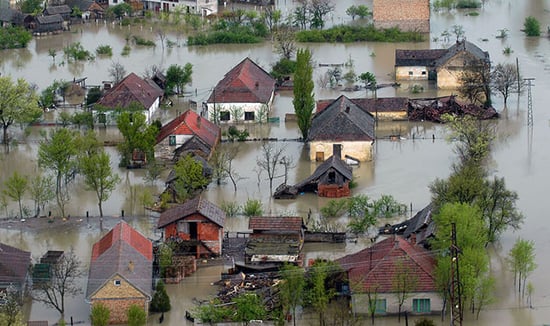 Force-placed insurance, also referred to as lender-placed insurance, was once isolated to situations of homeowner non-payment. However, as the occurrence of natural disaster events grows, force-placing coverage has become a common stopgap to try to protect against loss. Force-placed insurance now has expanded purpose, to include adding flood coverage outside of historical flood zones, wildfire coverage in areas designated as only moderate risk, as well as coverage placement for geographic areas that have proximity to documented zones for tornado, hail, and earthquake. This scenario creates unforeseen costs for homeowners and is a challenge for servicers that are already struggling to manage risk tied to unpredictable disaster events.
Natural Disaster Record Highs
The number of U.S. natural events reported by the National Oceanic and Atmospheric Administration (NOAA) hit its fifth consecutive year in terms of damage in excess of $1 billion, and the trend is predicted to continue. Ensuring readiness for ongoing exposure to risk and loss in this area starts with a working knowledge of the landscape. A recent Housing Wire article lists flooding at the top of the list of natural disasters, with over 1,600 reported significant events of flooding in 2018 alone. Most reports of flooding resulted from hurricanes, with devastation hitting record damage levels.
Devastation from wildfires has hit record highs. CoreLogic reported in this year's Wildfire Risk Report that in 2018 the U.S. experienced the sixth largest amount of burned acreage on record. Though it is extremely difficult to accurately predict areas of potential wildfire risk, as outlying risk determination is largely based on tracking wind direction and analyzing topography. Managed under the Wildland-Urban Interface (WUI) zonation process, the risk assigned to properties that are contiguous to WUIs is significant. Some types of destructive natural disasters are reported at a less frequent rate, including severe convective storms and earthquakes. Earthquakes often don't even come to mind for homebuyers or servicers as they are much less frequent, and the severity of impact is extremely difficult to predict.
Insufficient Coverage
Adding further complexity to insurance and disaster risk analysis, CoreLogic reports that nearly 60 percent of U.S. homeowners have coverage that is insufficient to handle replacement and/or restoration of their property in the face of disaster. Homebuyers frequently opt for standard policies that only include required disaster coverage. From a homeowner's perspective, they often don't realize the importance of additional coverages if not mandated by the lender. The most common example is flood insurance, which is typically only secured on properties that fall in a Federal Emergency Management Agency (FEMA) designated flood zone. This is a situation that compounds itself when disaster hits. Many policies have high deductibles, loss payment/reimbursement can be delayed, and often restoration companies are short on experienced help. This leaves the homeowner with delayed repairs and mounting expenses. There are also coverage issues that vary from lack of earthquake coverage in standard policies to coverage limitations that exempt insurance providers from paying in full for damage to the property.
Preparing for Disaster Recovery
The ability for servicers to prepare for disaster recovery is a growing challenge. Already encumbered by changing relief programs and with little chance of predicting when events will occur, attempting to safeguard collateral and minimize risk through force-placed coverage can be an incomplete or haphazard effort that adversely affects both the homeowner and servicer. Effectively managing risk to this current level of volatility and complexity can only be accomplished with automated workflow that has a proven track record in handling multifaceted servicing processes, including disaster relief.
Clarifire Can Help!
The CLARIFIRE® workflow platform is designed to assist lenders/servicers in overcoming exactly these types of operational complexities. With extensive experience in secure workflow automation, encompassing sophisticated rules workflow and workout administration, CLARIFIRE® controls disaster recovery parameters and insurance risk data within the logic requirements of corresponding workflow. Clarifire also offers solutions, like CLARIFIRE CONTACT® and CLARIFIRE COMMUNITY®, that significantly improve the borrower experience during this time of duress and help organizations synchronize various parties with their participation in the recovery process, including your insurance partners.
As you work to finalize your strategic insurance risk plan for 2020, we would welcome the opportunity to share the options available to you. Call us today at 866.222.3370 or visit us at eClarifire.com.
Let us show you how to future-proof your organization with CLARIFIRE.
If you liked this blog, read these next:

Jane has applied her vast experience (over 25 years) operating process-driven businesses to successfully redefine client-focused service. Jane has worked with expert programmers to apply cutting-edge web-based technology to automate complex processes in industries such as Financial Services, Healthcare and enterprise workflow. Her vision confirms Clarifire's trajectory as a successful, scaling, Software-as-a-Service (SaaS) provider. A University of South Florida graduate, Jane has received many awards related to her entrepreneurial skills.
Like this article? Feel free to share this with a friend or colleague!