As mortgage servicers continue to juggle pandemic relief, we find ourselves in the midst of an unusually overactive hurricane season. If you add extensive disaster relief on top of COVID-19 relief, we could see a real cascading effect as homeowners and servicers are hit with the complexities and rapid pace of changing relief programs, as well as further degradation from the employment and economic impact in areas hit by both. The National Oceanic and Atmospheric Administration (NOAA) reported a record-breaking number of storms, with the count at nine before August and 13 formed storms before September. A normal full season only produces an average of 12 named storms. The forecast for this season includes seven to 11 hurricanes with the possibility of the total storm count hitting as high as 25. The U.S. Secretary of Commerce, Wilbur Ross, remarked, "This is one of the most active seasonal forecasts that NOAA has produced in its 22-year history of hurricane outlooks."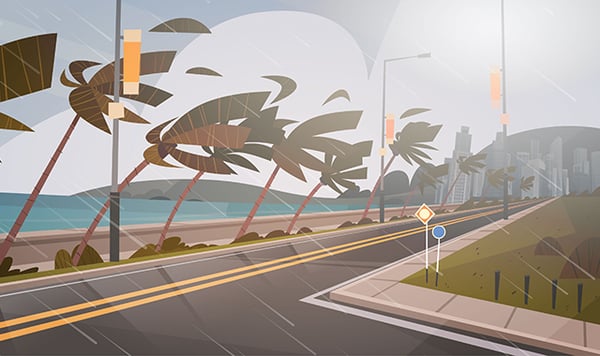 Notably, the Centers for Disease Control and Prevention (CDC) has issued an advisory calling for preparedness as natural disasters, severe weather, and COVID-19 collide. The Federal Emergency Management Agency (FEMA) has followed suit by offering guidance in this area. Although both of these issuances serve to instruct citizens on how to remain safe in the advent of multiple disasters, it highlights the increasing probability of convergence in this area as we gear up for what may be a ravaging storm season. "This year, we expect more, stronger, and longer lived storms than average," said Gerry Bell, Ph.D. and lead seasonal hurricane forecaster for NOAA. In addition to a huge unknown in terms of the impact of COVID-19 during the forthcoming flu season, there is no such thing as being over prepared.

Mortgage servicers, who are already under duress from the impacts of COVID-19, need to ensure readiness in anticipation of what will almost surely be a one-two punch from storms to hurricanes and the flu to the coronavirus. Given that staff is already working remotely, automating changing processes and capturing the changes in the business logic is crucial to effectively managing the volumes of incoming requests from distressed homeowners. Even the most prepared servicers may not have the systems and scale ready to add thousands of requests for disaster relief, which will certainly coincide with an increasing number of homeowners impacted by the pandemic, on top of existing relief borrowers rolling off of deferment or forbearance.
Whether for natural disaster or COVID-19, relief programs impact numerous processes and departments within a servicers' operations. Smart process automation technology ensures that each area understands their role and works collaboratively to address relief related activities in real-time. The right information is displayed at the right time to the right role. Helpful descriptions of what to do next displayed in one view are the components of critical solutions available today.
Securing your servicing operational processes with smart business logic that changes as needed will protect against the threats of multiple disaster hits. This necessitates a proven, flexible, and innovative application that intuits both the borrower and servicer needs. To bridge gaps, automatically drive processes, call out exceptions, and render compelling results may seem unattainable in this confluence of natural and pandemic disaster. It is attainable and can be implemented across your servicing operations now.
Why CLARIFIRE®?
Clarifire, the process automation company, has been delivering superior default servicing solutions since the financial crisis. With experience garnered from listening and learning from our customers, and most significantly, an application that has evolved alongside our industry's most difficult, challenging, and unpredictable events, CLARIFIRE® is the only solution that is not an afterthought for mortgage servicers. At Clarifire, we understand that no servicer intends to be behind in technology, resorting to manual workarounds, or relying on one-off solutions when systemic innovation is needed. CLARIFIRE® delivers what you need now.
Your team can be ready to face devastating disasters, ongoing regulatory and investor changes, as well as evolving remote work parameters. More importantly, with CLARIFIRE®, you can have business logic automated within the processes and provide your customers with 24/7 self-serve experiences.
Don't let the disruptions of disasters cause further chaos to your organization. Find out how CLARIFIRE® can drive positive relief experiences for you and your borrowers. To learn more, visit us at eClarifire.com, or contact us directly at 866.222.3370. Let us show you how to future-proof your organization with CLARIFIRE®. Truly BRIGHTER AUTOMATION®!
Read these blogs and articles next

Jane has applied her vast experience (over 25 years) operating process-driven businesses to successfully redefine client-focused service. Jane has worked with expert programmers to apply cutting-edge web-based technology to automate complex processes in industries such as Financial Services, Healthcare and enterprise workflow. Her vision confirms Clarifire's trajectory as a successful, scaling, Software-as-a-Service (SaaS) provider. A University of South Florida graduate, Jane has received many awards related to her entrepreneurial skills.
Like this article? Feel free to share this with a friend or colleague!