The servicing tech landscape is certainly ripe for automation and innovation. Whether your organization is preparing for the next wave of loss mitigation challenges, the sunset of LIBOR, decreasing MSR valuations, millennial homeowner expectations, or all of the above, servicing automation holds the answer to enduring and evolving. You've heard this before, but with over a year of pandemic influence, embracing automation is critical to continued success in the servicing realm.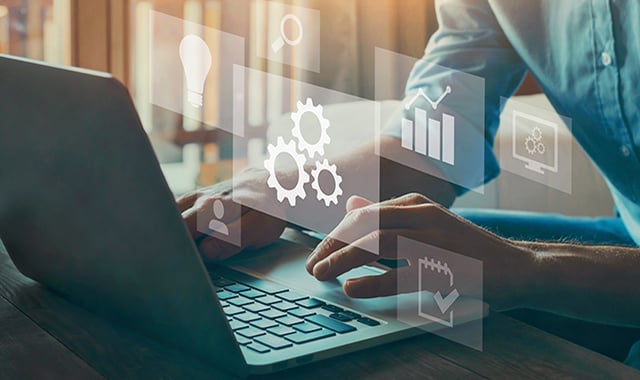 Leveraging the Pandemic Playbook
The pandemic has introduced an entirely new approach to doing business, most notably, managing remote workforces, engaging clients entrenched in social distancing, and rising to a new level of volume and velocity. Although servicing has been successful in navigating an erratic chasm of unprecedented change, we are all aware that loss mitigation must continue to keep up with the issues and events on the horizon. To ensure you are staying ahead of the curve and your strategic efforts are aligned with the industry, position your organization for readiness by leveraging capabilities that have come to be expected during the pandemic:
Automate processes across business operations and channels.

Enable 24/7 borrower access from any device.

Offer meaningful and personalized borrower communication.

Deliver no-touch, self-serve capabilities.

Ensure traceability and follow up through exception processing.

Provide end-to-end flexibility and transparency.

Deliver eligibility determination and decisioning in bulk.

Create modern change management, including rapid deployment.

Navigating Industry Pressures
There are a lot of hurdles that are currently percolating in the industry. Obviously, processes need to be in place to manage ongoing modifications and workout plans for borrowers coming out of forbearance. Escrow accounts and the corresponding analysis will need to be realigned for these borrowers, as well as the reinstatement of private mortgage insurance on PMI cancellations. The computation of 1098 interest will need to be adjusted to coincide with forbearance or deferral, with close attention on calculations for partial claims. Servicers also need to ready themselves for Coronavirus Aid, Relief, and Economic Security (CARES) Act litigation, including disputes over forbearance eligibility and the length of forbearance, as well as erroneously charged fees. Amidst these default obstacles, servicers need to have processes in place to migrate borrowers with adjustable-rate mortgages tied to the London Interbank Overnight Rate (LIBOR) to the Secured Overnight Financing Rate (SOFR). This is the list midway through the second quarter. There is no telling what the balance of the year holds.
Engaging Tech-savvy Borrowers
We continue to be caught up in the thralls of pandemic fatigue, but as vaccines and warmer weather arrive, it is important to look at what behaviors remain. Borrowers have become extremely accustomed to accessing their servicer whenever and wherever they are. Servicers need to accommodate today's borrowers provide a robust online experience that is seamless and includes automated tools, such as online calculators, workout scenario analysis, decisioning, access to and culmination in an end-to-end online process. As you look to evaluate reinvestment in your digital capabilities, include intelligent workflow automation that streamlines fragmented processes and optimizes efficiencies within your organization. Six questions to ask when evaluating potential approaches to automation should include:
What options exist today to alleviate servicing pain points?

Does your servicing operation need a team of developers for customizations?

Will you need an application that can integrate with other core systems across your organization?

How secure is your data?

Is the solution flexible enough to incorporate future changes?

What is the total cost to automate?

Turn the Pandemic into Your Automation Catalyst
No matter how overwhelming, workflow automation is the most expedient way to prepare your organization for the balance of 2021 and beyond. Servicers have the opportunity to embrace cutting-edge process change through sophisticated automated workflow and decisioning applications, such as CLARIFIRE®. Leverage the innovation that has exploded during the pandemic through low-code web and mobile applications that can be adopted with minimal effort, helping servicers readily incorporate change, improve scale and reduce costs. Choosing CLARIFIRE® can help you modernize your servicing operations by incorporating a proven application aligned with both servicer goals and borrower expectations. Ready to capitalize on the innovative fervor of the pandemic? CLARIFIRE® can help…. contact us directly at 866.222.3370 or visit us at eClarifire.com.
Let us show you how to future-proof your organization with CLARIFIRE®. Truly BRIGHTER AUTOMATION®.
Read these blogs and articles next

Jane has applied her vast experience (over 25 years) operating process-driven businesses to successfully redefine client-focused service. Jane has worked with expert programmers to apply cutting-edge web-based technology to automate complex processes in industries such as Financial Services, Healthcare and enterprise workflow. Her vision confirms Clarifire's trajectory as a successful, scaling, Software-as-a-Service (SaaS) provider. A University of South Florida graduate, Jane has received many awards related to her entrepreneurial skills.
Like this article? Feel free to share this with a friend or colleague!