There are many issues defining the landscape of healthcare for 2018. According to the PwC Health Research Institute, strategic patient experience and tackling the opioid crisis are among the top 12.1 Opioid use has been a hot topic of concern for decades. However, with the latest staggering statistics on opioid addiction and related deaths, finding a solution to the crisis has come front and center.
With the rise in value based models driving hospital reimbursements, a patient's perception of care can have an impact to a hospital's bottom line. There is concern that in tackling the opioid crisis there could be a negative impact on survey scores. So how do healthcare providers handle these two issues when they become competing priorities?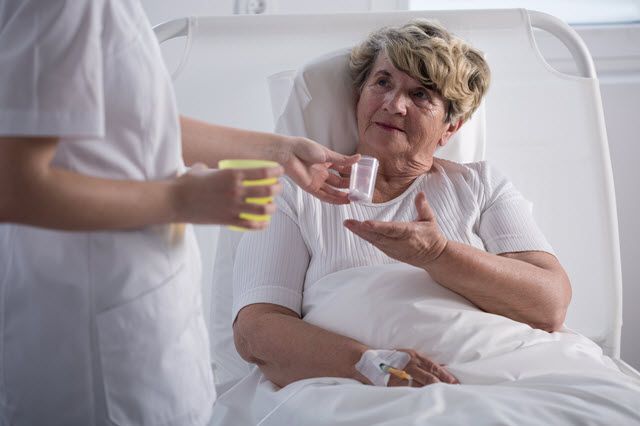 The Opioid Crisis
Since back in the 1990s, the death rates from drug overdoses have been on the rise. According to the CDC more than 63,000 Americans died from a drug overdose in 2016. Over 17,000 of those deaths were attributed to prescription opioids.2 The CDC reports that in 2017 more than 191 million opioid prescriptions were dispensed.3 With the National Institute on Drug Abuse reporting "roughly 21 to 29 percent of patients prescribed opioids for chronic pain misuse them".4 For this you can see a crucial need to control the opioids that are being prescribed.
Download our eBook: Sustaining Nurse Rounding!

Strategic Patient Experience
As the healthcare industry transitions into full value based models, patient experience is not only a financial driver for health systems but part of their overall strategic conversations. Patient experience is now one of the top three priorities among healthcare provider executives. As patient experience becomes a differentiator in the market, 49% look to revamp their patient experience in the next five years.1
A patient's experience following a surgical procedure is based on their perception of how their pain was managed, not any type of service related experience. It only makes sense to assume that when someone is in pain they are not thinking about how good their food was or how promptly something was fixed. So how do you alleviate pain, prevent addiction and optimize the patient experience all at the same time?


Download our eBook: Reducing HAIs with Early Audit Capabilities

Competing Priorities?
When you look at the issues independently, it may seem that pain management and patient experience have conflicting agendas that need to be reconciled. However, multiple studies have shown otherwise, including one conducted in 2017 by the Jama Network at the University of Michigan.5 There is no correlation between reducing opioid usage and HCAHPS scores.
Physicians and caretakers should not be under the misconception that what level of opioids they prescribe is related to how they will be rated in patient experience surveys. The focus instead should be on communication with the patient. CMS instructs caretakers and physicians to communicate with the patient as a person about their entire pain experience. Where is it coming from? What can we do as a team to manage it? Is it coming from an issue possibly not related to the surgery?
In addition, healthcare systems have better access to social information about patients which is leading them to treat patients more likely to develop an addiction or those that should be prescribed an alternative to opioids. Leading to the conclusion that pain management and the patient experience are not conflicting priorities as long as doctors keep up the right kind of communication. The scores will reflect a positive patient experience.

How to Manage Both
CLARIFIRE HEALTH is a helpful companion for standardizing your organization's approach to pain management discussions. Our mobile technology standardizes and streamlines workflow associated with administering patient care. With flexible scripting to control the phrasing of questions and visibility to previous answers, it's easy to see if the patient's pain is being properly managed, therefore creating a positive experience for the patient.
If you liked this blog, read these next!