Hospitals want to provide a great patient experience, but at times it can be a challenge. The hot topics and emerging trends covered at this year's Patient Experience Symposium appropriately pointed out that Patient Experience is more than one single thing done by a single person. Instead, Patient Experience must be a mission, one that is owned by every team member within the organization. Clarifire was there to discuss the issues and collaborate with providers on how to improve the patient experience. In case you couldn't be there, here's our key takeaways from the conference.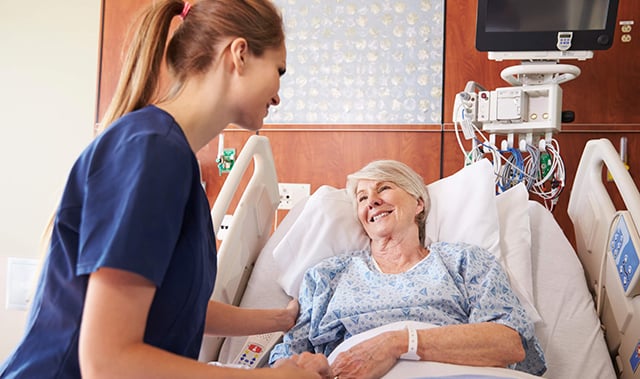 The Power of the Patient Human Experience
Patient stories served as a reminder of the impact that a caregiver's words can have on their patients. Driving this point home was Marcus Engel, author of "The Other End of the Stethoscope". Following a nearly fatal car accident as a college freshman, Marcus had to endure over 350 hours of reconstructive surgery. He recounted his time in the hospital and how the caregiver behavior and empathy, or lack thereof, will drive patient response and behavior. Inspirational stories told by patients like Marcus further establish the understanding of the power that simple words can have, and how they can make a patient feel and heal. Building an authentic connection with your patients can go a long way to improving the patient and caregiver experience.
Mindfulness and Changing the Narrative
Ever hear of mind over matter? Well, using mindful expression and creative narrative to improve the patient experience really works! We learned that by changing your perspective, you can alter and improve the outcome. One of the speakers we heard from was Kelsey Tainsh, author of "I'm Not Limping, That's Swagger." Kelsey is a 27-year-old inspiring young lady that knows a lot about changing the perspective. She survived a brain tumor at 5 years old and bounced back to become a champion athlete. Then at age 15, the tumor returned and caused a massive stroke that completely changed her life. Kelsey overcame the loss of movement, speech, and even friends. Despite the challenges she faced, she graduated from the University of Florida magna cum laude and has continued to surpass expectations. How? She changed the narrative.
Download our eBook: The New Rules of Nurse Leader Rounding!
Empathy In, Compassion Out
Providers that create a culture of empathy are rewarded with numerous benefits, including improved patient experience. What's more, empathy can also help prevent caregiver burn-out. Many believe humans are either born with it or not, but studies show that isn't the case. We heard from Helen Riess, MD, an Associate Professor of Psychiatry at Harvard Medical School. Helen spoke about the benefits of delivering compassionate care for the patient AND caregiver alike. The good news is that empathy can be learned. In a small study done for empathy training, the men in the study began with lower scores than the women, but then also showed the largest percentage of improvement! Bottom line, empathy can be and is being trained across healthcare providers today. The result is empathy goes in, compassion comes out. As explained by Pat Mastors, Founder at Patients View Partners, "compassion is the blockbuster drug of the century." Treating the patient with empathy is good for the health of both patient and caregiver.
Patient-Centric Care
The importance of collaborating with the patient and including them in the plan is imperative for the patient's overall health. Caregivers must connect with the patient and make an authentic, human connection. Caregivers today need to adopt the mindset of 'treat the whole patient, not the hole in the patient'. Caregivers must engage the patient to become part of the process of improving their own clinical outcome. Empowering patients to assist caregivers by what they do (or do not) outside the hospital walls has a big impact on long term health and necessary preventative care.
Culture + Innovation
Creating a culture for improving patient experience takes more than the desire to improve. It requires a culture from the top down, one that will promote team member engagement and is well supported by innovative technology. Technology today must add value and streamline the process. In addition, it needs to be flexible, with the ability to be used in more than one department for a single solution. Elizabeth Paskas, VP of Experience Innovation at Hackensack Meridian, spoke about how she and her team created a space to support their culture and mission, dubbed the Xperience Innovation Café. What makes this unique is not just the space, but the focus of innovation that supports the overarching mission and culture. The bottom line, what Elizabeth reminded us of is that it is possible to better "humanize" the patient experience by combining the right technology with the right culture.
CLARIFIRE HEALTH® has an easy-to-use patient rounding solution built by nurses…for nurses.
Click here to get a quick VIDEO preview of our
CLARIFIRE HEALTH Rounding Solution!
Improve Patient Experience with Innovation
CLARIFIRE® HEALTH partners with hospitals to improve quality and patient experience with innovative, and easy to use workflow technology. Our workflow platform automates multiple quality and safety processes that will enhance patient experience and outcome. Are you ready to take your patient experience to the next level? Click here to talk to one of our experts or Request a demo.
If you liked this blog, read these next!
Tammy Bourassa
Tammy Bourassa leads the business account management team at Clarifire. She came to Clarifire with over 15 years of experience in selling and supporting client software solutions within the healthcare industry. Her industry knowledge ranges from pre hospital/EMS care to inpatient and rehabilitation care. Tammy has successfully led various sales, account management and operational teams. When asked, she said she really enjoys growing business by building relationships. "It's so much fun to work with all the flavors of people and to help solve their issues."
Like this article? Feel free to share with a friend or colleague!